Thanksgiving at Sandestin
Thanksgiving at Sandestin is one of our favorite times of year! From tree lighting ceremonies, to indoor ice skating, firework shows, black Friday sales and fabulous dinner cruises there is something for everyone.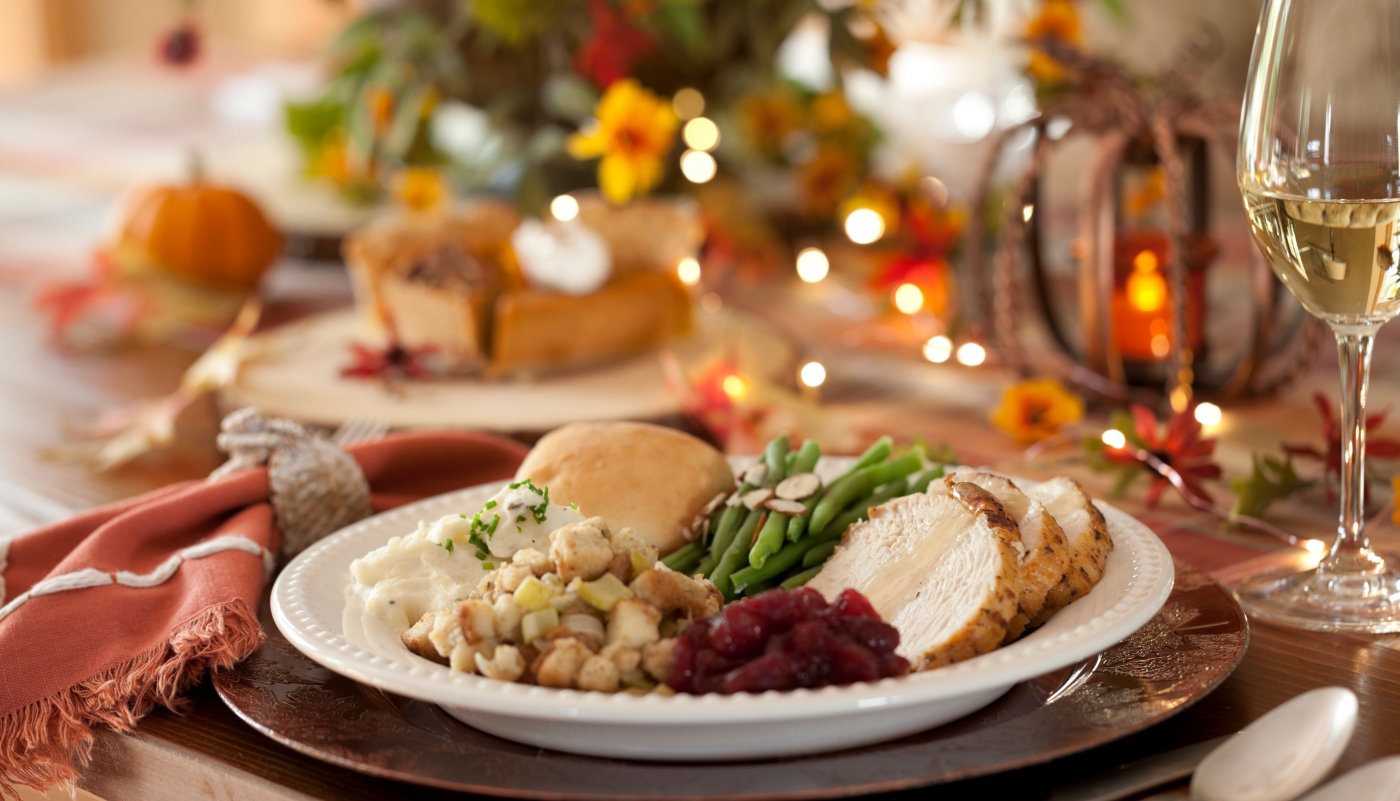 If you are spending Thanksgiving at Sandestin, we have put together a list of helpful information that you can use, with hours of operation, Thanksgiving specials, and activities that you won't want to miss!  
Places to Eat:
Marina Bar & Grill
Thanksgiving Day – Open 11:00a.m. to 6:00p.m. with a turkey menu special
Saturday– Open 8:00a.m. for breakfast
Caffe Siena
Thanksgiving Day – Open 7:00a.m. to 1:00p.m. serving coffee, pastries and breakfast biscuits
Friday through Sunday – Open 6:00a.m. to 1:00p.m.
Fat Tuesday
Thanksgiving – Open 3:00p.m. to late serving daiquiris, wings and other bar snacks
Sandestin Catering
Forget about the holiday stress, and let us do the cooking! Our chefs are cooking up a gourmet Thanksgiving feast that can be picked up or delivered to your home or accommodations. Advanced orders are required so please place your order today by clicking here or contacting Chelsea Pyzik at [email protected] or 850-267-7794. You can see the catering menu below or by clicking here.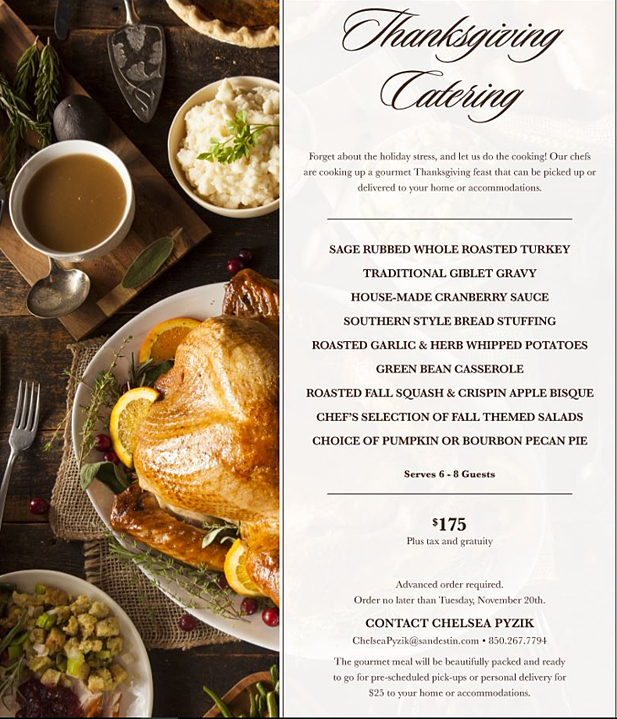 SOLARIS Thanksgiving Lunch & Dinner Cruises
Guests can celebrate Thanksgiving on the water on the SOLARIS Thanksgiving Buffet Cruises on Thursday, November 22, with the lunch cruise from 12:00 (noon) to 2:30p.m. and the dinner cruise from 6:00 to 8:30p.m. The SOLARIS chefs freshly prepare a cornucopia of coastal and traditional cuisines aboard the yacht's galley. To see the menus for lunch and dinner, please click here.
Reservations are required and can be made by calling 850-650-2519.
Thanksgiving at Marlin Grill
Share this wonderful holiday with your loved ones by dining at the Marlin Grill in The Village of Baytowne Wharf. Beginning at 4:00p.m., Marlin Grill invites guests to enjoy a four-course meal including choice of salad, dessert and traditional Thanksgiving entree with Roasted Turkey, Smoked Ham, Cornbread Stuffing, Ricotta Mashed Potatoes, Cream Spinach and Cranberry Relish.
To see if other restaurants in the area are open, please see the "Additional Local Restaurants and Grocery Stores" graphic.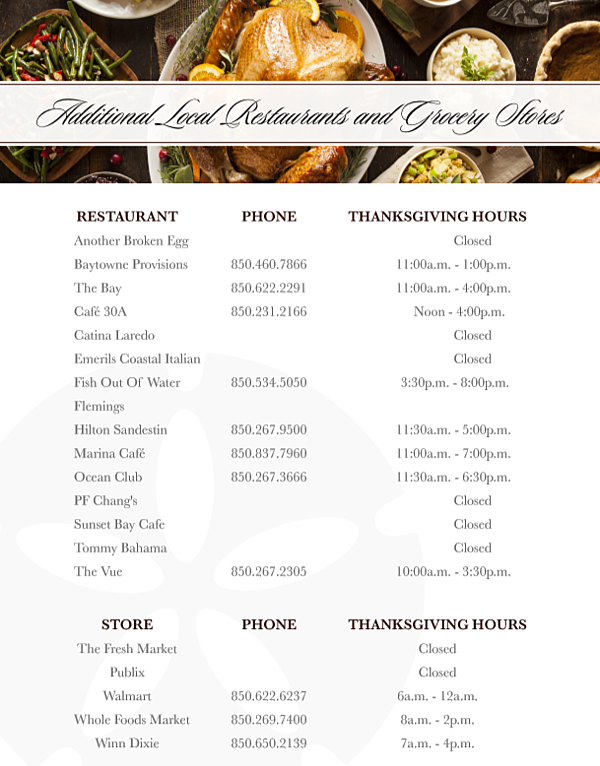 Local activities to do:
Baytowne on Ice
November 2018 - January 2019
For those visitors who miss the chills of the snow and ice, take a whirl around Baytowne On Ice. The ice skating rink is the perfect opportunity to get into the winter spirit! This seasonal rink has become a local holiday favorite. For the daily schedule or to fill your waiver out ahead of time, please visit: www.baytownewharf.com
Here Comes Santa Claus
Bring in the holidays at the Village of Baytowne Wharf! Join us for our Here Comes Santa Claus Weekend for our annual Village tree lighting, carriage rides, holiday movie, and a special visit from Ole' St. Nick!
Friday, November 23 – Kick-off the holiday season with a family movie under the stars! Watch Polar Express under the stars beginning at 6:00p.m.
Saturday, November 24 – The main event! We will have kid's activities and live music. Starting at 6:00p.m. Santa Claus arrives followed by a fireworks show! And don't forget to snap a photo with Santa, until 9:00p.m.!
Admission is free. Open to the public. More information at BaytowneWharf.com.
Sandestin Black Friday Sidewalk Sale
November 23-25
Join Sandestin Family Retail Shops for the Black Friday Sidewalk Sale in The Village of Baytowne Wharf. Enjoy an additional 25% off sale items for a total savings of 50-75% off at Barefoot Princess, Island Clothiers, Coconut Kidz and Sandestin Clothing Company. Visit Shop Sandestin for more details.
Festival of Trees at Grand Boulevard
November 24-December 25
Grand Boulevard's 7th Annual "Festival of Trees" kick-off will take place on November 24 from 4:00 - 6:00p.m. The festival will showcase more than a dozen uniquely decorated Christmas Trees from non-profits around the area. Bring the whole family to enjoy the tree lighting and the announcement of the Grand Prize winner for the best decorated tree. 
The trees will be on display November 24-December 25 and open to the public to enjoy at no cost.
30A 10K and 1 Mile Fun Run
Thanksgiving Day – Thursday, November 22
The Seventh Annual 30A 10k and One Mile Fun Run, the official RRCA State 10K Championship Race, takes place on Thanksgiving Day in Rosemary Beach. All proceeds from the three-days of festivities are given to 501c3 charities. For registration and information, please visit: www.30a10k.com.
NFL Schedule
Thursday, November 22:
Bears vs. Lions 11:30a.m.
Redskins vs. Cowboys 3:30p.m.
Falcons vs. Saints 7:20p.m.
Spend your holiday season at Sandestin Golf and Beach Resort! Save 15% off your stay between 11/11/18 - 1/3/19 when you book through Sandestin before 12/26/18. Take advantage of this exclusive offer on terrific accommodation rates, plus a wide variety of complimentary amenities including tennis, fitness center access, bike rentals and more. Use code: CHEER. To see other specials we offer, please click here.
Other Articles You May Enjoy
Sick of the cold and snow? Ready for some sand and sunshine?
Vacation
Now you can fly direct to Destin and South Walton from 19 US Cities.
Vacation
Not sure where to take your photos? Check below for our 5 favorite places on property!
Vacation