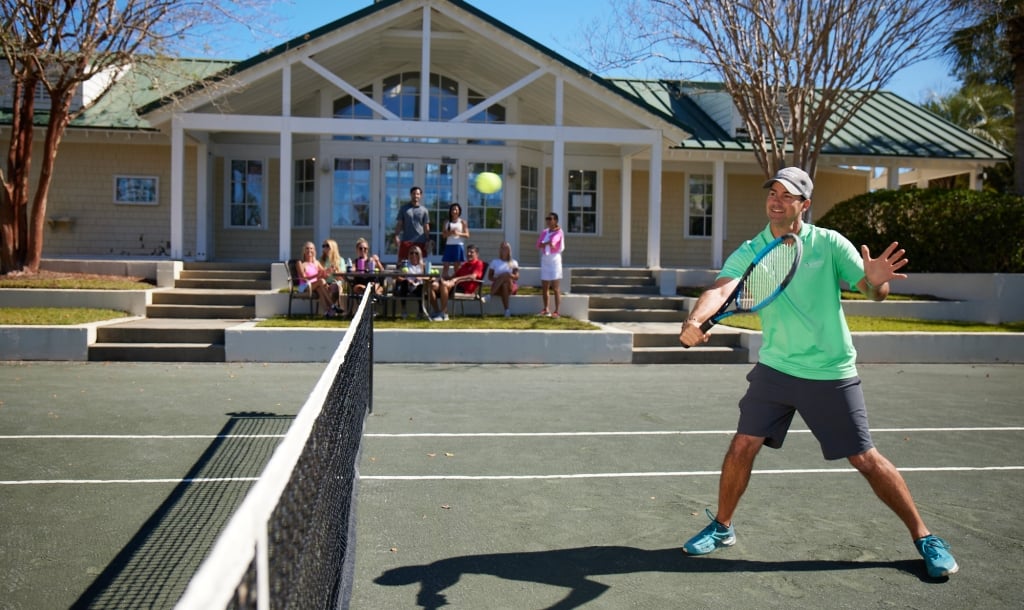 Tennis Club 50th Anniversary Special
The Sandestin Tennis Center is commemorating 50 years of enjoyment with an exclusive offer. Become a member by November 30th, and your membership fees will be waived until the conclusion of 2023, saving you up to $500. Contact us at 844-985-2626 to secure your membership today.
Membership
Take your enjoyment of the game to a whole new level and get into some spirited competition at one of the Top 25 Tennis Resorts in the USA.
Benefits include:
UNLIMITED time on twelve clay courts and three hard courts
TWO-WEEK advance court reservations
CLUBHOUSE FACILITIES, including dressing rooms, lockers, and showers
REDUCED-RATE TENNIS LESSONS
COMPLIMENTARY Wi-Fi Internet connection
CHARGE ACCOUNT PRIVILEGES at the Club
20% TENNIS SHOP DISCOUNT (largest selection of ladies apparel on the Emerald Coast)
YEAR-ROUND TENNIS ACTIVITIES, including:
Mixed doubles round robins Saturday and Sunday
Ladies' and Men's round robins
Adult drill clinics Monday through Saturday
Sandestin Owner
Single Owner Initiation fee: $3,000*
Monthly dues/Single Owner: $125
Owner Couple Initiation fee: $3,500*
Monthly dues/Owner Couple: $140
Owner Family Initiation fee: $4,000*
Monthly dues/Owner Family: $155
Public
Single Public Initiation fee: $4,000*
Monthly dues/Single Public: $135
Public Couple Initiation fee: $4,500*
Monthly dues/Public Couple: $150
Public Family Initiation fee: $5,000*
Monthly dues/Owner Family: $165
All rates are subject to change.
*Fees are subject to 7% Florida sales tax. Initiation fees are non-refundable.
Pickleball Club of Sandestin
Immerse yourself in the joy of pickleball, a delightful and sociable game! With straightforward rules and beginner-friendly dynamics, it's a breeze to learn. However, be prepared for the game to evolve into a thrilling and fast-paced competition as your skills progress. Engage in the excitement of pickleball, where fun, camaraderie, and friendly competition await!