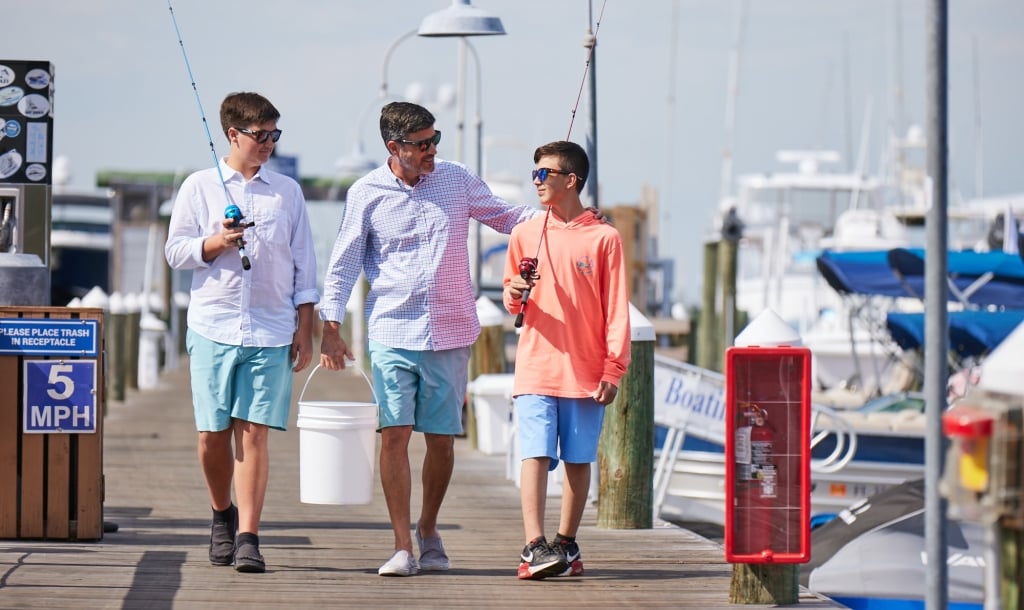 Fishing at Sandestin®
We like to say you'll find Sandestin® between the beach and the bay, which means we're surrounded by water, lots of it. There's a beautiful undersea world waiting for you here. Go freshwater catch and release fishing at resort lakes, go surf fishing at the beach, or fish at the property piers. Enjoy the thrill of an exciting Florida deep-sea fishing trip or charter a pontoon boat, and maybe you'll get that big catch, or have fun trying. 
(NO fishing or cast nets are permitted on Baytowne Marina docks at ANY time)
Fishing Gear / Supplies at The Sandestin® Bike Shop
Pre-packaged fishing kits for children and adults or single fishing poles are available for purchase or rental. Artificial lures, bobbers, hooks, and Frozen bait- located at the Baytowne Marina bike shop. 
Fishing Charters
Bay fishing and In-shore Gulf fishing charters departing from Baytowne Marina are available with a reservation from Capt. Sid with Lil' Lucky of Destin by calling 850-699-2286. Or Capt. Pat with Baytowne Charters 850-585-3074. Contact Baytowne Marina at 850-267-7777 for a day-long offshore adventure with Capt. Devin on Swoop II Party Boat.
Fishing on the Beach
Resident saltwater anglers who fish from shore will need a shoreline fishing license unless they have a regular saltwater fishing license, persons with disabilities fishing license, other combo license or are exempt. The shoreline saltwater fishing license is available to Florida residents only. Nonresident saltwater anglers must purchase a regular nonresident saltwater fishing license at $17 for three days, $30 for seven days or $47 for one year, regardless of whether they fish from shore or a vessel. These prices include administrative fees, but handling fees are additional.
 We ask that guests be very, very courteous to others swimming in the water and sitting on the shore. The most convenient times to fish on the beach would be early morning or late afternoon.
Fishing at The Village of Baytowne Wharf Pier
Fishing is available for Resort guests and visitors to The Village of Baytowne Wharf at the Pier located at the end of Hammerhead's Bar and Grille. A fishing license is not required for fishing on this dock.
Fishing in the Ponds
Fishing is available for all Resort Guests at any of the 72 ponds located on property. Each pond is stocked and CATCH and RELEASE is required. A fishing license is not required when fishing in the ponds. Please do not fish off of fairways or golf course side of pond.
License Requirements
A fishing license is only required if you are fishing from a boat that does not provide a license for you.
Fishing licenses may be obtained from www.wildlifelicense.com.