Sandestin® is for... runners!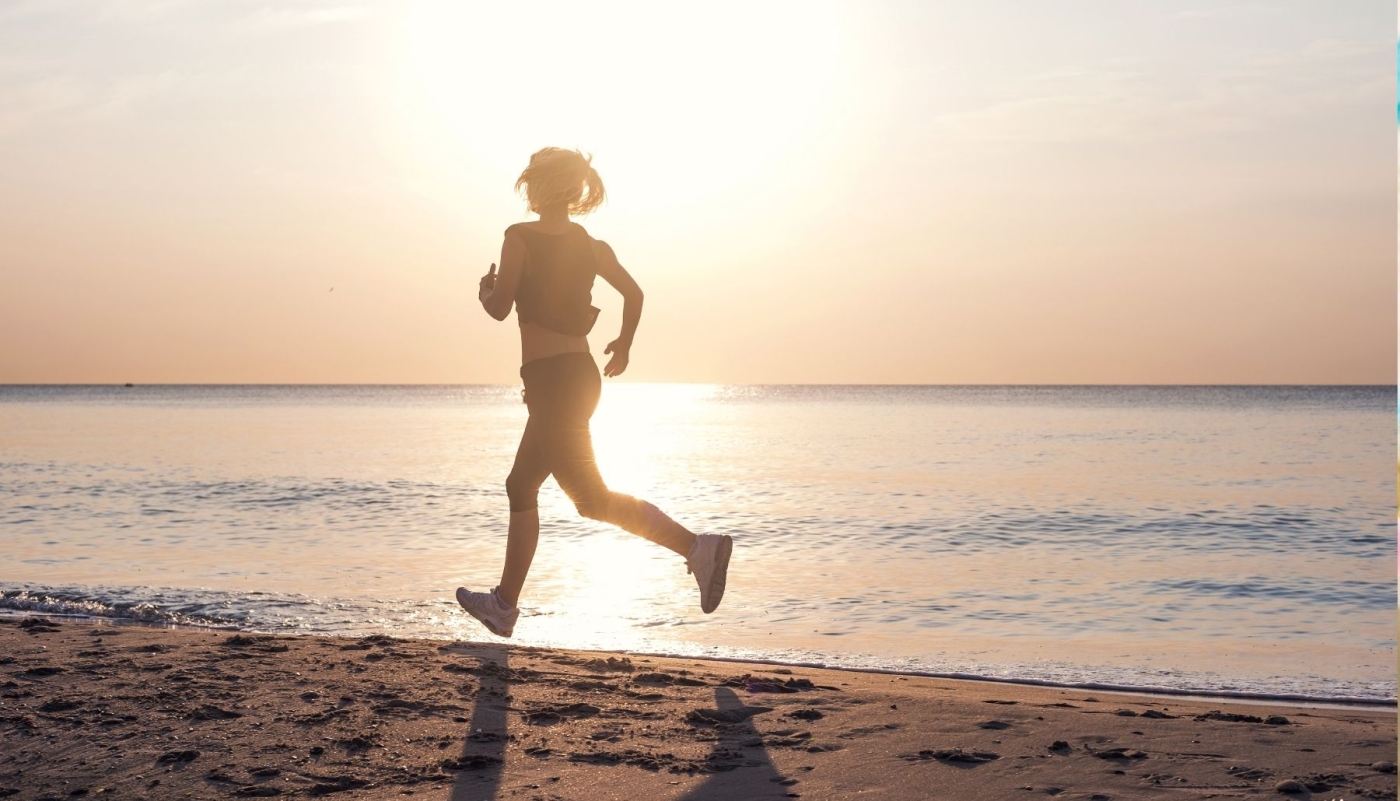 Sandestin® is known as "a golf and beach resort" for a reason. It has four great golf courses and the world's best beaches. It's also known for other activities such as biking, shopping, and restaurants.  There is one activity in Sandestin that's never mentioned – running. In my humble opinion, Sandestin® is the best place in the world for runners.
Great Things about Running in Sandestin

®
The running conditions in Sandestin® are ideal. The terrain is mostly flat and there is plenty of shade. Do you want hills? You can find a couple of those. You can go down and up through the tunnel under Highway 98 or up and down between Tivoli and Pine Ridge Villas. 
Running in Sandestin® is safe. Traffic is light and speed limits are low. Compare Sandestin® running conditions to the crowded, high traffic trails of 30A or Scenic Gulf drive. Or worse, have you seen the poor unfortunate souls running on the sidewalks along Highway 98? Sandestin's gates and security staff provide a wonderful level of safety. I've run alone before daylight and after 10 pm, and never worried about safety. 
Sandestin® is a beautiful place to run. The plant life is varied, with blends of the tropical and the classic southeast – palm trees and pine trees. Along Sandestin Boulevard South you run through a row of spaced palm trees in open sunshine reminiscent of the much-photographed boulevards of Los Angeles. Less than a mile away along Baytowne Avenue, you run through canopies of live oak trees. In addition to the natural beauty, there are over 30 neighborhoods with a variety of homes and condominiums and 4 golf courses. 
Beauty is more than just what you see. You will likely be surprised by the fragrances of blooming plants.  During the spring there are some very fragrant shrubs just north of the tunnel.  During the summer don't miss the jasmine on Administration Drive. The flowers for these are not showy like the azaleas, they're mostly small white or cream flowers on bushes, trees, or vines. You will smell them before you see them.
You never have to run alone at Sandestin®. My favorite friend is a grey heron who hangs out near the bridge by One Beach Club. I almost always see grey herons, snowy egrets, and turtles.  I've seen juvenile turtles hopping rides on their mothers' backs.  Most of the time I see multiple tiny lizards.  They love to sit on the sun-warmed sidewalks but will scurry away when you approach.  There is even a cormorant who thinks he's a turtle hanging out with the turtle group at the pond behind Pine Ridge Villas. 
Speaking of water, you will spend most of any run within view of at least one body of water.  You can run from the beautiful Emerald Coast of the Gulf of Mexico to the Choctawhatchee Bay, with acres of lakes in between.  I tried to count the lakes in Sandestin® by looking on Google maps, and it's nearly impossible.  They're everywhere.  If you want to actually run "on the water" you can do that, too.  You can run on two docks – one in Baytowne Wharf Village and the other just across from the Welcome facility – and many bridges.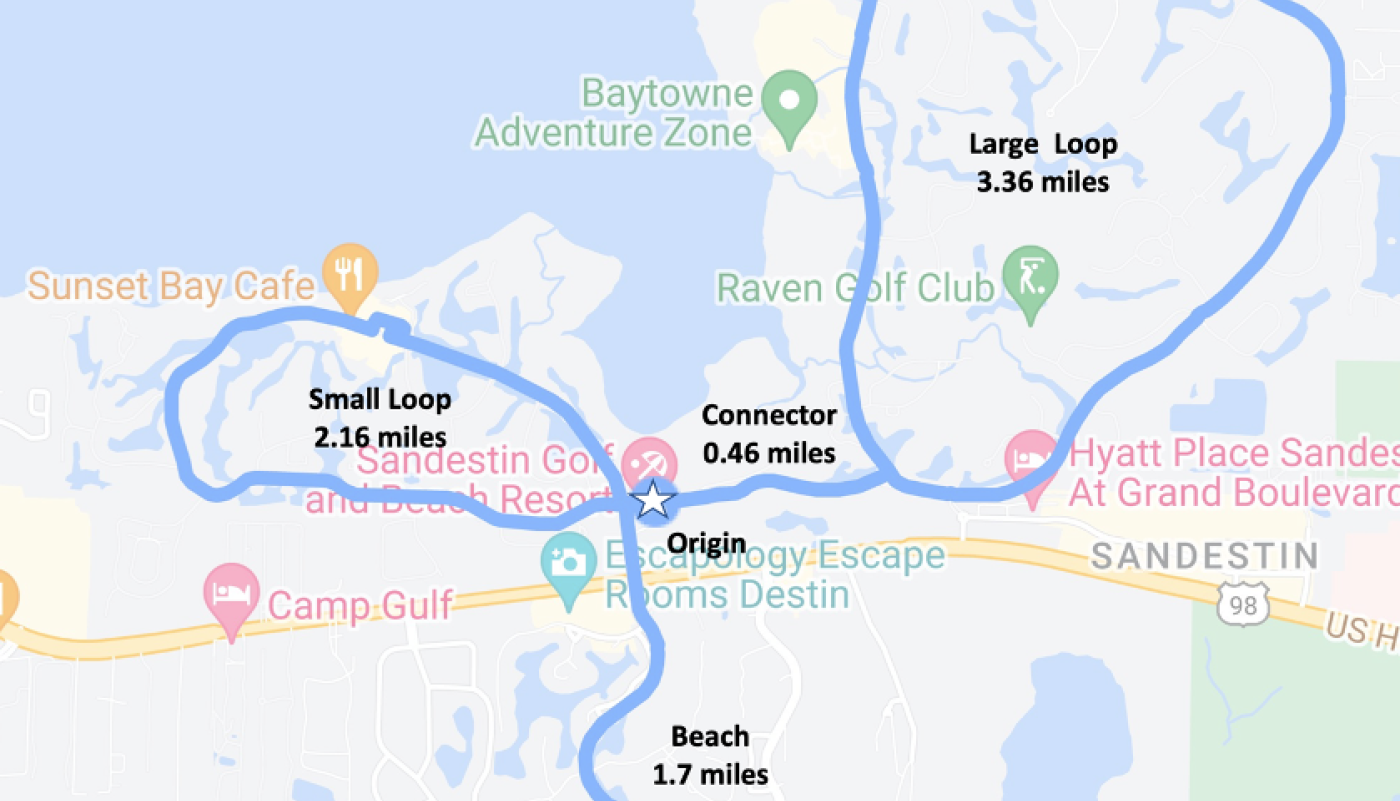 Where to Run
Sandestin is the place to train for a distance run because you can run unlimited mileage.  Here is an overview map of the resort with mileage noted for each of the major segments. 
The Origin of these distances is just outside the visitor's center.  Want to run a 5K, or about 3.1 miles?  Start at the origin and run around the small loop and then out and back on the connector.  5 miles?  Add the round trip to the beach.  A 10K/6.2 miles?  Start at the origin, take the connector to the large loop, around the large loop, and back to and around the small loop.    If you go for the "full Monty" (all the noted mileage together) it's a total of 8.14 miles.  Plus, there are over 30 unique neighborhoods all around these major segments.  If you run through all the neighborhoods, you can easily run over 50 miles without repeating.  Suffice it to say that I had no trouble training for the Chicago marathon in Sandestin. 
And don't forget the beach.  If you're a serious runner, you know that you won't achieve your personal record time running on sand.  But the benefits are tremendous.  Barefoot running can build better form and reduce your risk of injury1.  The beauty of the gulf does wonders for your mood.  And you can literally run all day if you want.  From Sandestin's beach, you can run uninterrupted for about 10 miles West to Destin Harbor or about 40 miles East to St. Andrews State Park in Panama City Beach. 
Run to Sandestin this Winter to Escape the Cold
Are you a runner from somewhere cold?  Here's an idea.  Try to spend a month or more in Sandestin during the winter.  The temperatures are perfect.  The average high in January is 60 degrees.  I spent much of my career working from home in Chicago.  Many days I bundled up in my Canada Goose jacket, snow boots, hat, gloves, and scarf to walk a half-mile to the gym to run on the treadmill.  In 2016 I realized that there is a better way.  Now I'm in Sandestin for 6 months a year.  I run about 4 days a week.  This winter – November through April – I ran outside every time except for one day on the treadmill.  Renting a condo or a home in Sandestin during the winter for a month costs roughly the same as renting for a week in the summer.  To me, that's a small price to pay for the mental and physical health benefits.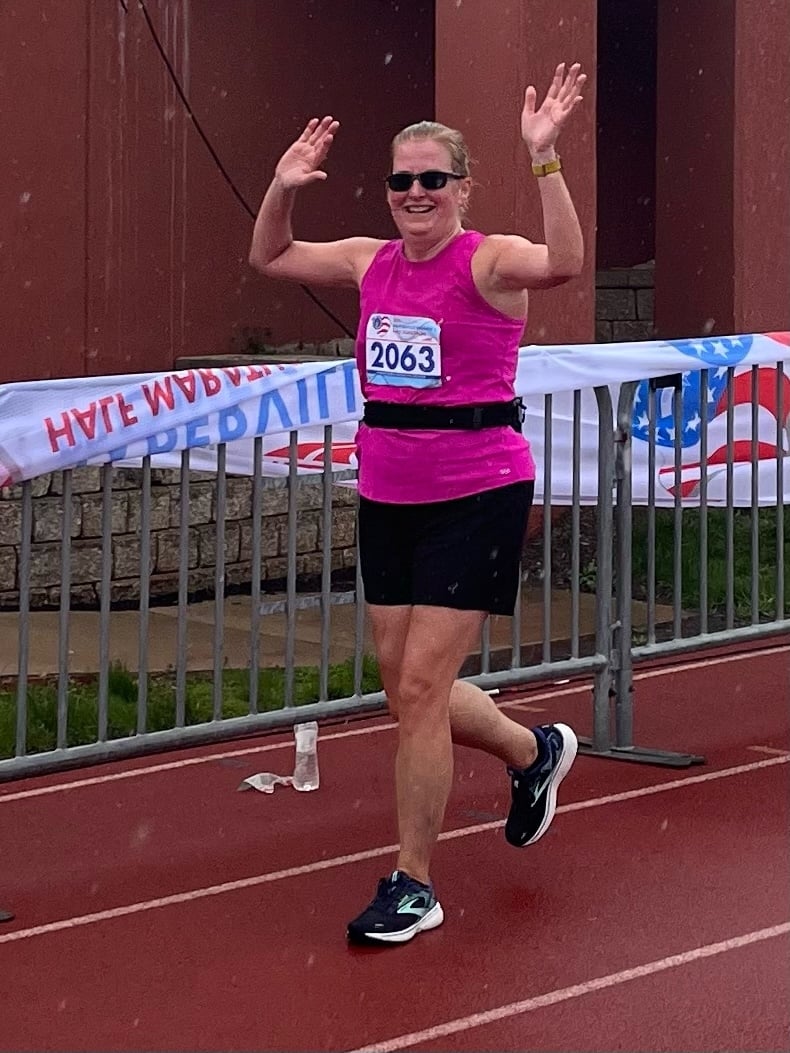 My Story
A little more of my running story.  I've wanted to be a runner since I was in college when some of my friends were runners.  When I started working, I admired and followed some of my coworkers who ran 5Ks and marathons.  My husband has run 11 marathons including Boston.  I took my first running class in my 30s and ran a few short races.  I even signed up for a marathon in San Diego and trained for it, only to hurt my knees on a downhill run, so I ran a half marathon instead.  I signed up for the Chicago marathon more than once, but never trained successfully and never made it to the starting line.  I really only became successful as a runner since moving to Sandestin.  I started with consistent walking then completed a couch to 5K program (again.)  For the month of April 2019, I ran 3 miles every day.  My sister Missy and I registered for the 2020 Chicago marathon.  I was beginning to train and had a major health crisis.  I became too weak to run and could barely walk or use my hands and was diagnosed with CIDP/Guillain-Barre syndrome.  I began treatment with 3 days of hospitalization at Ascension Sacred Heart in June of 2020 and overtime have almost completely recovered.  Due to Covid-19, the 2020 Chicago marathon was canceled.   I started walking and then running again, joined the Chicago Area Runners Association training program, and successfully completed the Chicago marathon on October 10, 2021.  I owe a huge debt of gratitude to Missy.  We trained together when we could, and kept each other motivated and accountable.  I'm slow and that's okay with me.  If anyone asks me how long it took me to run the marathon I say "It took me 56 years."  Since then, I have run two half marathons and will run the Chicago marathon again this year.  I currently run about four days a week for a total of about 20 miles.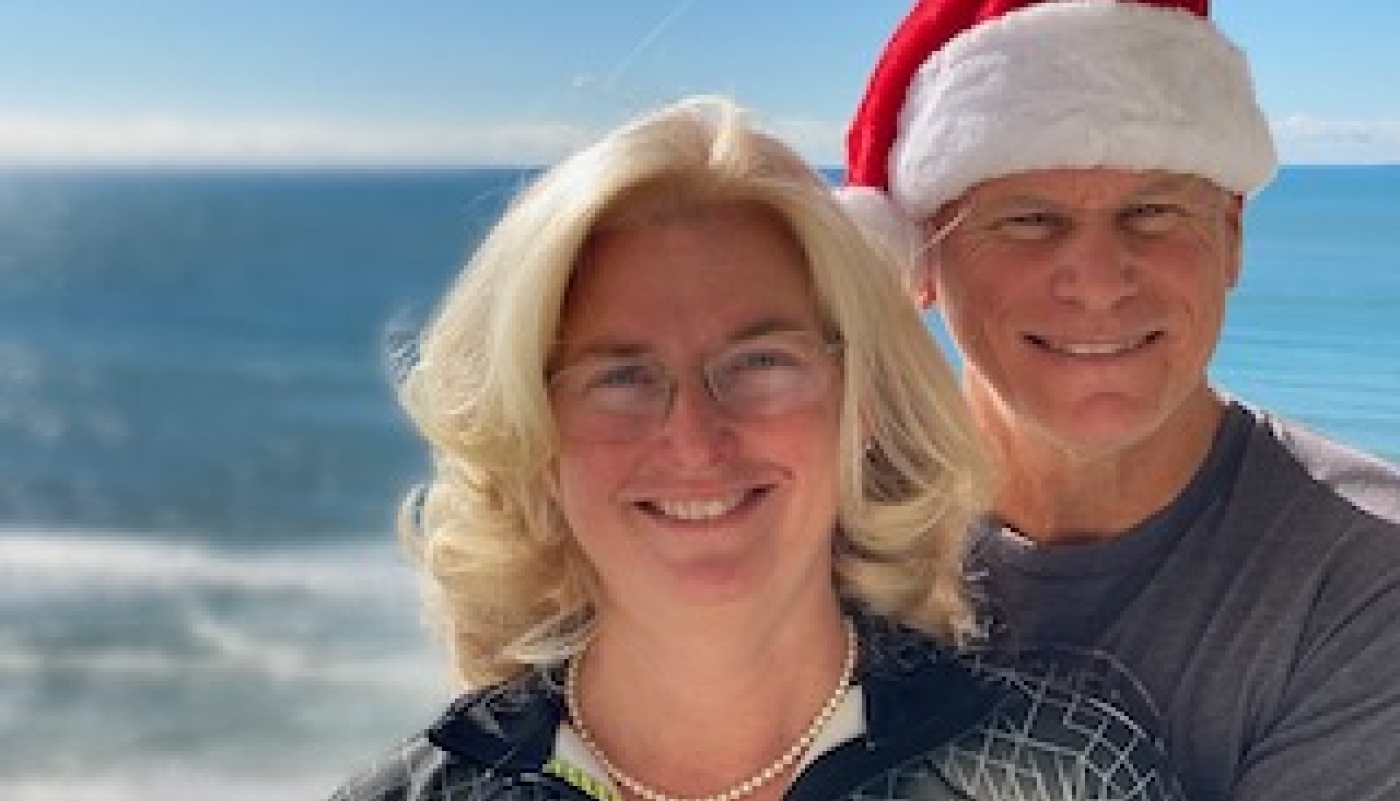 Running Tips
If you are not currently a runner but would like to start here are some tips.
You're running to improve your health, so for goodness' sake don't injure yourself.  If you have any questions about your fitness for running see your doctor.

Good form is critical to preventing injuries.  The book ChiRunning by Danny Dreyer has great guidance on form.

The right shoes for you will enhance your run.  The wrong shoes can cause pain and injury.  Different people have different running shoe needs.  Go to a good running shoe store for sizing and fitting.  If you live in Sandestin you will need to drive at least to Fort Walton to find a running store.  It is well worth it.

Get a running partner – find your Missy – and if possible, a running group.  The two things that enabled me to finally become a runner are having Missy as a partner and having Sandestin as my winter home.

Don't run on the golf courses.  They're beautiful and very tempting, but the risk of being hit by a golf ball is not worth it.

Get a smartwatch.  I've been through multiple evolutions of running technology, and am amazed at how miraculous the Apple watch is as a running tool.  (If you're an Android user you probably have something that serves a similar purpose.)  It tracks distance, total time, pace, split pace, and heart rate.  I also stream music or podcasts from my watch, and if necessary, receive or make calls.  I don't carry my phone on runs.

Consider using run/walk intervals.  A couch to 5K training plan is used by many beginning runners and starts with short running intervals between longer walking intervals.  Over time the length of the running intervals increases until you are running continuously.  Some programs and coaches including Jeff Galloway, the official runDisney training coach, recommend run/walk intervals for all runners.

Install the Intervals Pro app on your phone and/or watch.  It is priceless if you are using run/walk intervals and also allows you to perform speed work without a track.

Finally, learn from the legends.  If reading about running would make someone a good runner I'd be winning marathons by now.  Some of the most well-known and helpful running coaches/writers are Danny Dreyer, Hal Higdon, and Jeff Galloway.  They all provide great recommendations and motivation.
I was out for a run recently and within five minutes saw two groups of people who motivated me to write this article.  A young family approached me on the sidewalk – parents with a child in a stroller and a daughter who was about 3 years old.  The little girl saw me and started to jog.  The parents gave me a nice smile.  It was clear that the girl saw me running and wanted to run too.  Within just a few minutes I ran through the tunnel under Highway 98 and a couple was running near me.  They asked me if you could run very far in the resort.  I said yes and recommended a six-mile course.  It felt great that I was able to inspire and help other people enjoy this wonderful running course that I call home.  I hope this article inspires and helps you.
1 Cleveland Clinic https://health.clevelandclinic.org/barefoot-running/