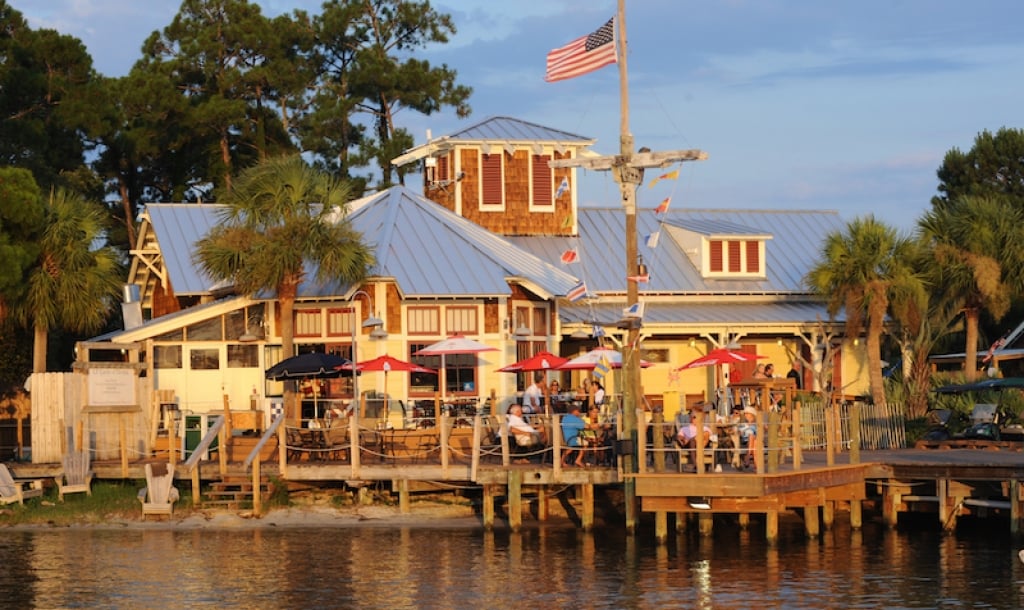 Marina Bar & Grill Menu
To Share
Seasoned fries topped with shredded cheddar, bacon bits and ranch 
Tortilla chips topped with seasoned ground beef, Monterey Jack cheese, cheddar cheese, lettuce, tomatoes, jalapenos, cilantro crema, guacamole and homemade salsa 
Flash fried and served with mild banana peppers and remoulade 
Steamed jumbo shrimp, chilled and served with cocktail sauce and garnish 
Hickory smoked gulf snapper served with jalapenos and pita chips 
8 wings tossed in sauce of your choice: mild, medium or hot buffalo, teriyaki, spicy teriyaki, BBQ, spicy  BBQ, bourbon, mango habanero, sweet chili, dry rub or our special Chipotle Chao Chao sauce 
Salads
Add to any salad: chicken $6, shrimp $8, fresh catch $8, or grouper $10
Arcadian mixed greens with tomato, cucumber, carrots, red onion and feta cheese 
Fresh chopped romaine, aged parmesan, garlic and herb focaccia croutons and Caesar dressing 
Iceberg lettuce, crispy bacon, fresh avocado, blue cheese crumbles, chopped egg, diced tomatoes, blueberries and buttermilk ranch dressing 
House Features
Add chicken $3, shrimp $6
Monterey Jack cheese, fire-roasted peppers and onions, cilantro crema, guacamole, and homemade salsa 
Cheese only $8
Sub shrimp add $2, grouper add $3
Blackened, grilled, or fried catch of the day, lettuce, pico de gallo, queso fresco, cilantro crema, and homemade salsa served on warm flour tortillas 
Sub grouper add $3
Choice of fish or shrimp dusted with seasoned flour and fried. Served with cabbage slaw, cocktail sauce, seasoned fries, and hushpuppies 
Famous Grouper Sandwich $19
Locally caught. Grilled, fried or blackened with pineapple cabbage slaw and remoulade on a toasted brioche bun
Locally caught. Grilled, fried or blackened with pineapple cabbage slaw and remoulade on a toasted brioche bun 
Add bacon $2
Grilled Angus burger with American cheese, lettuce, tomato, and red onion served on a brioche bun with fries, chips, or slaw 
Bring your freshly caught, skinned and deboned fish and we'll grill, fry or blacken to your liking. Served with your choice of two sides: french fries, homemade chips or cole slaw 
Lilʻ Skippers
Kids menu served with choice of side: french fries, fresh fruit or chocolate chip cookie 
Served 11am – 3pm 
Choice of house made potato chips, seasoned fries, coleslaw or sweet potato fries 
Choice of cheese on grilled Texas toast 
Bacon, lettuce, tomato and avocado served on Texas toast 
Smoked turkey, melted swiss, pineapple cabbage slaw and Russian dressing served on Texas toast 
Sub shrimp add $1, grouper add $2 
Blackened, grilled, or fried served on a French roll with lettuce, tomato, and remoulade 
All beef hot dog topped with chili, cheese and onions. 
Add chicken $2, fresh catch $4, grouper $6
Mixed greens, tomato, Monterey Jack cheese, and remoulade wrapped up in a flour tortilla. 
Extra veggies add $1
Southern Fried Chicken Sandwich $16
Seasoned fried chicken with pickles on a toasted brioche bun.
Add cheese $.50
Add lettuce, tomato, and onion $.50
House prime rib topped with melted swiss on a French roll served with a side of au jus 
Served during Happy Hour 3-6pm 
Seasoned fries topped with shredded cheddar, bacon bits and ranch 
Golden fried cheese curds served with a side of ranch 
Golden fried pickles served with a side of ranch 
Tortilla chips served with homemade salsa and guacamole 
House cooked ribeye served with mashed potatoes and veggie of the day 
Baytowne Ave. Seafood Plate $24
Blackened grouper and shrimp topped with parmesan cream sauce served with mashed potatoes and veggie of the day 
Sub fresh catch add $1, shrimp $2, or grouper $4
Chicken, peppers, and onions served on a sizzling plate with warm flour tortillas 
Jamaican jerk chicken served with mashed potatoes and veggie of the day 
Served Charleston style: cheese grits topped with shrimp, andouille sausage, bacon, onions and peppers 
BBQ Glazed Ribs
$18 Half or $28 Full rack
Slow-cooked ribs glazed with a sweet BBQ sauce served with mashed potatoes and veggie of the day 
Bring your freshly caught, skinned and deboned fish and we'll grill, fry or blacken to your liking. Served with your choice of two sides: french fries, homemade chips or coleslaw 
Wine, Beer & Seltzer
Tunnel of Elm Cabernet $7
Tunnel of Elm Merlot $7
Trinity Oaks Pinot Noir $7
La Crema Pinot Noir $14
Tunnel of Elm Pinot Grigio $6
Beringer White Zinfandel $5
Tunnel of Elm Chardonnay $6
La Crema Chardonnay $13
Kim Crawford Sauv Blanc $14
Budweiser $4.5
Bud Light $4.5
Miller Lite $4.5
Coors Light $4.5
Michelob Ultra $4.5
Blue Moon $5.5
Yuengling $5.5
Corona Extra $5.5
Corona Light $5.5
Stella Artois $5.5
Guiness $7
Divide & Conch'r IPA $7.5
White Claw $5.5
Mango or Raspberry 
Daquiri
On The Rocks
Award Winning Carlito's Zesty Bloody Mary
Titos® Vodka, Award Winning Zesty Pao Pao Bloody Mary Mix with spicy green bean and celery garnish 
Ketel One® Oranje Vodka, orange and cranberry juices 
Captain Morgan® White and Coconut Rums, crème de banana, orange and pineapple juices, grenadine 
Smirnoff® Vodka, Captain Morgan® Coconut Rum, pineapple and cranberry juices 
Grand Sandestin Margarita
Don Julio® Blanco Tequila, Grand Marnier®, triple sec, margarita mix 
Cruzan® Passion Fruit Rum, blue curaçao, sweet & sour mix, lemonade 
Captain Morgan® White and Coconut Rums, crème de banana, orange and pineapple juices, grenadine 
Cruzan® Passion Fruit Rum, raspberry liqueur, sweet & sour mix, lemon-lime soda 
Ketel One® Oranje Vodka, raspberry liqueur, pineapple juice 
Frozen
Cruzan® Passion Fruit Rum, amaretto, raspberry liqueur, piña colada mix 
151 Rum, pineapple juice, piña colada mix 
Captain Morgan® White Rum, Kamora Coffee Liqueur, dark crème de cocoa and vanilla mix 
Ketel One® Oranje Vodka, mango and vanilla flavors 
Cruzan® Key Lime Rum, margarita mix, vanilla liqueur 
Vodka, melon liqueur, piña colada mix, grenadine