20th Anniversary ECBC Art Contest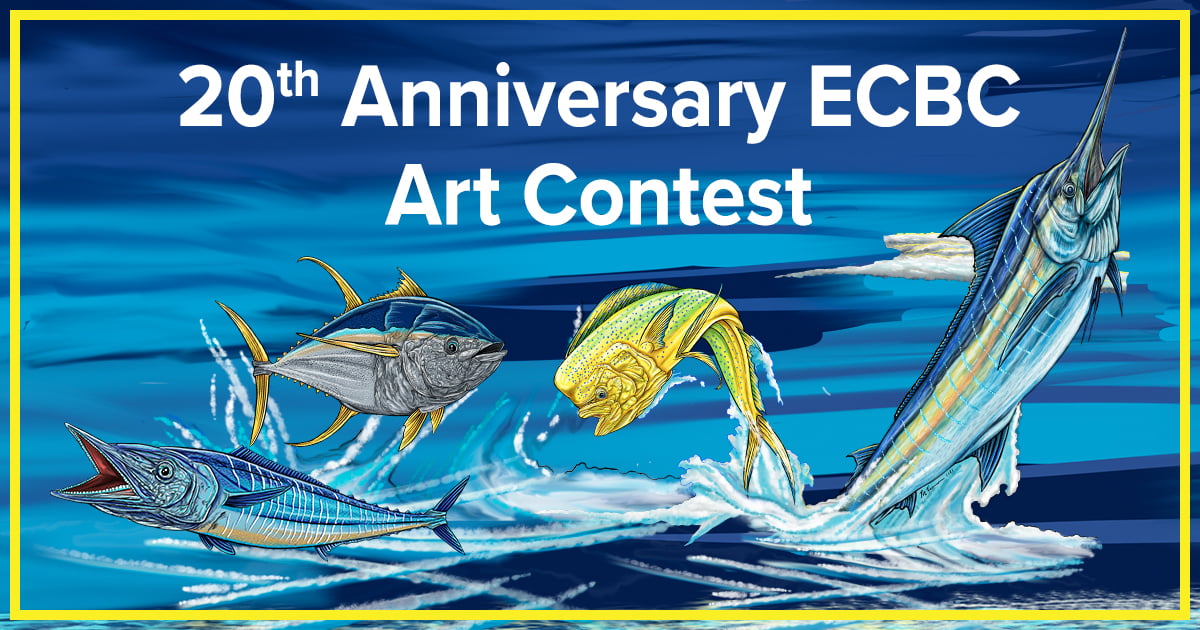 UPDATE: WE ARE EXTENDING THE DEADLINE TO DECEMBER 31, 2021! 
Calling all artists!
2022 marks the 20th Anniversary of the Emerald Coast Blue Marlin Classic and we want YOU to create the art. This is your chance to be our official ECBC artist and have your work featured on all our media, website, t-shirt, buckets, etc. See the official contest rules below, put on your creative hats, and we can't wait to see what you've got!
2022 ECBC Art Contest Rules
The Work Must Be Original: You must be the creator of the art that you submit to the competition. Your art must be your own original concept and not a copy of anyone else's copyrighted material. (If your image infringes upon another's copyright it will be disqualified.) Upon submitting your work to this competition, you are solely responsible for any infringement on copyrighted materials.
Content:

MUST include a Blue Marlin, Yellowfin Tuna, Wahoo, Mahi-Mahi, and Sand Dollar
MUST be in digital form
MUST be 18 years of age or submitted by a parent or guardian
MUST NOT include any official or copyrighted characters

Copyright: Contest entrants will retain the copyright of all submitted work but grant ECBC/Sandestin® unlimited and indefinite permission to use submitted images on/in ECBC's website, print collateral, display images, shirts, buckets, posters, and/or any additional event promotional materials. Artist will be credited but not compensated.
Non-exclusive Permissions: By entering this art competition, you are granting ECBC/Sandestin®, without monetary compensation, a non-exclusive perpetual license to reproduce images of your artwork on our website, in/on our print media, newsletters, posters, buckets, t-shirts, website, print collateral, display images, and/or any additional event promotional materials, in the marketing of ECBC to the public. Each entry may be featured for historical/archival purposes. Any present or future requests for removal will be denied.
File Sizes and Formats: Hi-res 300 DPI jpeg file along with layered PSD file or Illustrator vector file.
Entry Process: send all files to

[email protected]

. Please include in the message:

Full Name

Email Address

Phone Number

IG Social Handle (if applicable)

Judging Process: All artwork is subject to judging by ECBC and Sandestin® staff who will choose the top 3. The winner will be selected from the top 3 based on a social media voting process. All judging decisions are final
Judging Criteria:

Does the submitted artwork feature a Blue Marlin, Yellowfin Tuna, Wahoo, Mahi- Mahi, and Sand Dollar?

Does the artwork meet the dimension specifications and is the quality high enough for print?

Is there a creative depiction of ECBC?

Is the originality of the work interesting?

Is there overall quality and command of the medium being used?

Does the work impact the viewer in relationship to the event?

The composition and design of the work is also a judging criterion

Original Work: We reserve the right to request proof that your entry is your original artwork created solely by you. Non-compliance to this rule will be a disqualification of your entry.
Multiple Submission: Multiple submissions are permitted.
Submission Deadlines and Timelines: Artwork may be submitted up until midnight, Central Standard Time, on FRIDAY, DECEMBER 31, 2021.

Monday, January 3, 2022- submissions will be reviewed by ECBC and Sandestin® staff. All judging decisions are final.

Monday, January 3 - 7, 2022- top 3 artists will be contacted

Monday, January 10, 2022- Top 3 announced via Social Media platforms and voting will begin.

Sunday, January 16, 2022, at midnight- voting closes.

Wednesday, January 19, 2022 – winner will be announced. All judging decisions are final

Prizes: The winner will receive full recognition for winning artwork in addition to:

Featured booth space in the ECBC Vendor Village

VIP pass for artist and a guest to the week of ECBC events

Complimentary two-night stay in a select unit at Sandestin® Golf and Beach Resort

Questions? Contact

[email protected]

Void where prohibited by law.
Check out some examples of years past and GOOD LUCK!