5 Reasons to Book a Stay at Sandestin!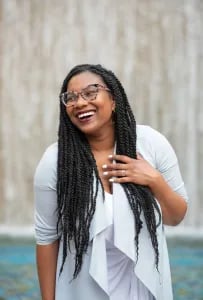 Last month, Krystin of "Growing Up Godfrey," came to visit us with her family and is giving you 5 Reasons to Book your next vacation at Sandestin® Golf and Beach Resort!
5 Reasons to Book a Stay at

Sandestin®

Golf & Beach Resort! 
Fact: There is not a stretch of beach in the world that is more beautiful than Gulf Coast beaches in Florida! And I should know – I grew up traveling to beaches situated on the Gulf of Mexico. I have always admired the beauty of Miramar Beach, Florida which is 8 miles from Destin. 
We just got back from the most incredible trip to Sandestin Golf & Beach Resort in Miramar Beach. The resort is expansive, covering 2,400 acres in NW Florida and boasts 30 distinct village neighborhoods, 19 pools, 4 championship golf courses, and (my fave part) over 7 miles of white sand beaches! 
Keep reading to hear more and check out our favorite 5 Reasons to Book a Luxury Stay at Sandestin Golf & Beach Resort.
Osprey Pointe – Lavish, Spacious Accommodations
We travel often, but our accommodations during this trip to Sandestin were some of the nicest we've ever experienced. Osprey Pointe is located in the heart of the resort and is its newest luxury addition. We were given a luxury top floor four-bedroom penthouse, that was extravagant from the inside out! Click here for our full video room tour of this incredible unit.
The unit was beautifully decorated with a bright, spacious kitchen and living area. We loved that the floor plan was open and allowed us to cook, relax, and play all in the same area. It was the perfect layout for our family!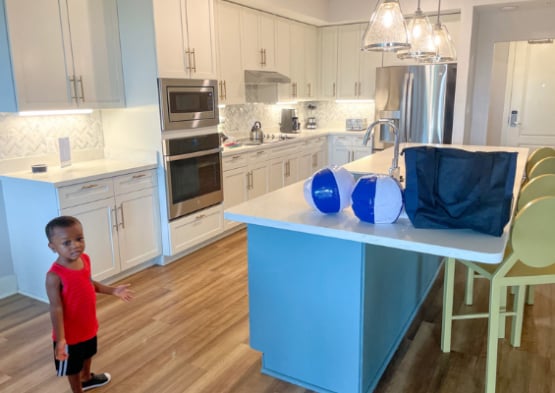 All of the bedrooms were clean and inviting, but my favorite area of the unit would have to be the master suite! It was appointed with a king bed, and had a seating area, an office space, and a pool-facing balcony just off the bedroom.
And the master bathroom was literally what HGTV dreams were made of! It had a beautifully tiled shower and a soaking tub that was perfect for relaxing after a long day of vacation.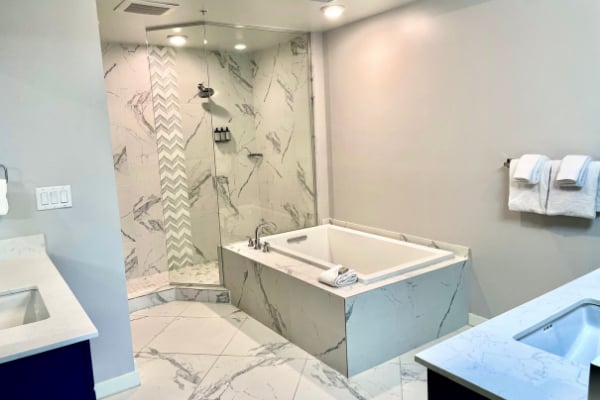 The icing on the cake on the cake was the full washer and dryer located in the unit. If you've ever been to the beach without laundry facilities you will understand why this was a HUGE deal. I was able to do laundry throughout the trip and come home from vacation with clean laundry.
The team at Sandestin literally thought of it all when they designed the Osprey Pointe units. That made it the perfect place to stay for our family!
Complimentary Amenities
Sandestin offers a number of amenities and attractions on property!
Sandestin guests receive two complimentary 4-hour bike rentals each day of the stay. Desrick, who works the bike rental shop, was so helpful and gave us a trailer attachment and a baby seat to accommodate our 3 toddlers. We spent a few hours riding around property and taking in the sights of Sandestin.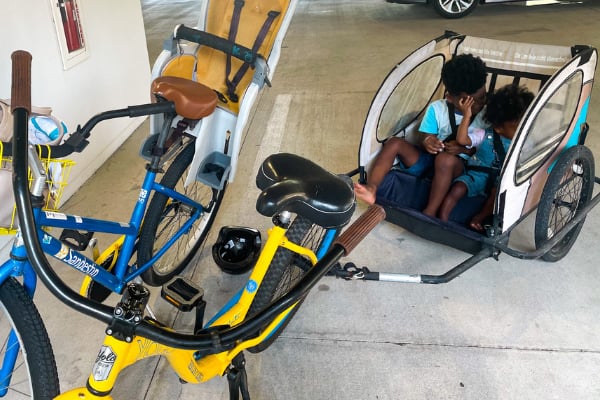 Guests who book direct through Sandestin also get one-hour free kayak and boogie board rentals. 
Combine this with the bike rentals, and you have an awesome way to spend a day of resort fun without ever having to leave the property.
Beautiful Gulf Beaches
Sandestin has a private beach area that is open to resort guests with chair rentals available. You are also free to bring your own chairs, which is what we opted to do. Our unit in Osprey Point was a quick drive across the main drag to get to the beach. There was ample parking and an easy walk down to the beach area.
Our kids LOVE the beach and we enjoyed hanging out in the beautiful blue ocean and white sand that covers the beaches of the Gulf Coast. 
There were also banana boats, jet skis, and other watersports available for rent. At Sandestin, you can be as adventurous or as relaxed as you like!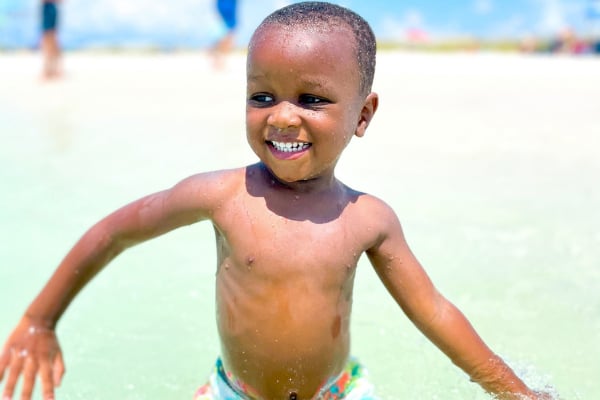 Multiple Pools 
Sandestin Golf and Beach Resort has multiple pools that are available to guest who book direct. We spent most of our time at the gated Osprey Pointe pool. It was zero-entry and perfect for our littles who are still learning how to swim. There was also a hot tub that we took full advantage of!
Fun fact: our particular unit had 2 balconies that each overlooked the pool. One morning, my husband and son spent a morning at the pool, and I watched them enjoy from the balcony. It doesn't get more perfect than that!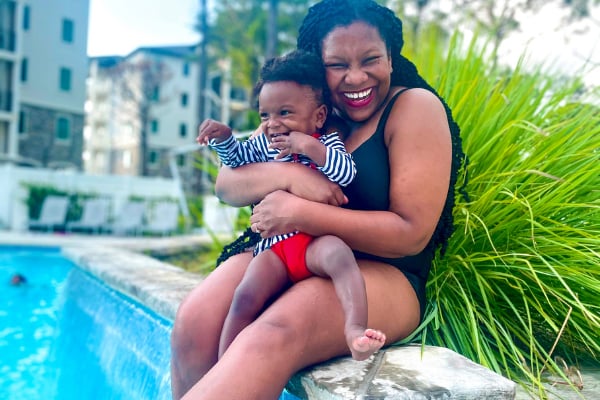 Dining Options
Sandestin Golf and Beach Resort is home to 20 restaurants right on resort grounds. We were able to take advantage of our bike rentals to ride to the resort's Village at Baytowne Wharf. Baytowne Wharf is an entertainment district with abundant dining options, nightlife, and shopping. 
Baytowne Wharf is very kid-friendly! Some of the restaurants have playgrounds and play areas where the kiddos can blow off steam while you wait!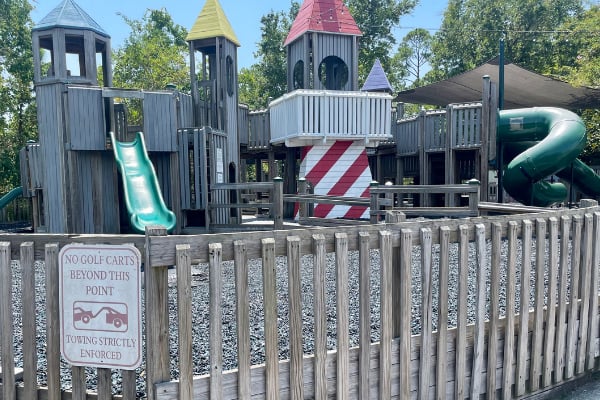 In addition to the dining choices at the Village, Sandestin also offers guests a Gulf-front dining experience. The Beach House overlooking the Gulf of Mexico is located on the resort's Beachside. And on our next trip to Sandestin, my husband and I are already planning to visit Ovide at Hotel Effie. Ovide is a French-influenced, upscale dining experience headed up by James Beard award-winning chef Hugh Acheson.
The restaurants at Sandestin Golf and Beach Resort are definitely what foodie trip dreams are made of. Yet another reason we are already planning a repeat trip!
Proximity to Area Attractions
The resort is close to multiple shopping centers, restaurants, and area attractions. We picked up groceries to cook a few meals and have some snacks on hand. We also grabbed ice cream at a local fudge shop that was right next to Sandestin. The shopping centers are close, so we saw a few families driving golf carts from the resort!
And if you want to stay on property and explore all of the different attractions that the resort has to offer, there are complimentary trams that run from the beach to the bay.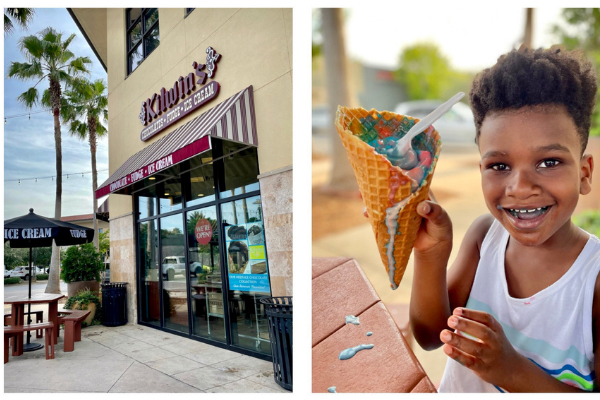 To sum it up, our visit to Sandestin Golf and Beach Resort was amazing!
What we loved
Our condo in Osprey Pointe was incredibly beautiful and so spacious!
The full kitchen was stocked with everything we needed to cook as much as we wanted. All we had to add was groceries 🙂
Sandestin resort has restaurants, shopping, and entertainment on site — if you choose, you never have to leave the resort.
Our unit had a full washer and dryer. All the praise hands for this mama!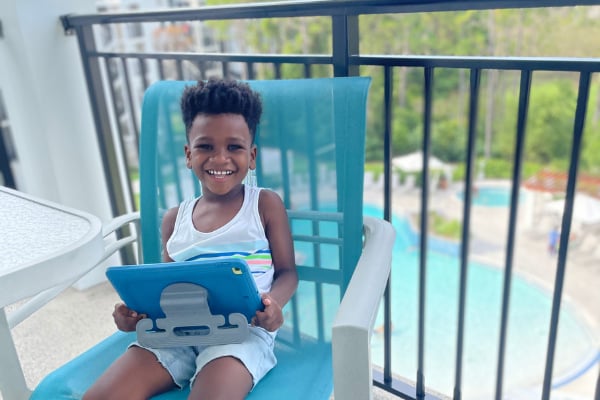 What we would do differently next trip
Try a new section, just for fun! Sandestin has many different accommodations to suit every taste including Beachfront, Beachside, Bayside, and Lakeside.
We would likely stay a little longer in order to enjoy the many amenities the resort has to offer. We didn't get a chance to go kayaking or enjoy any watersports, but next trip we will for sure.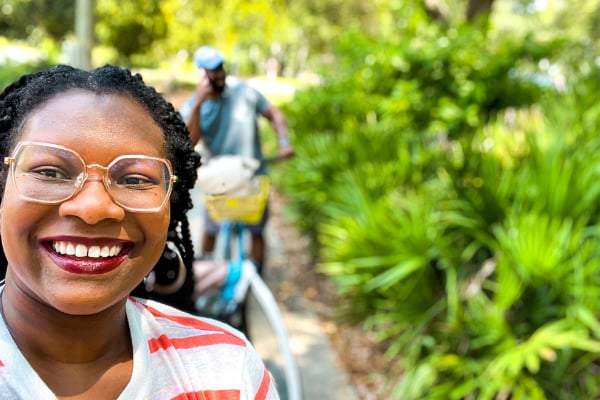 We truly enjoyed our trip to Sandestin Golf and Beach Resort and can't wait to return for another family vacation! 
Check out Growing Up Godfrey to learn more about Krystin and her adventures!