Our New Enhanced Cleaning Initiative
We have been working behind the scenes to modify our health and safety processes across the resort so we may welcome you safely when we are able to do so.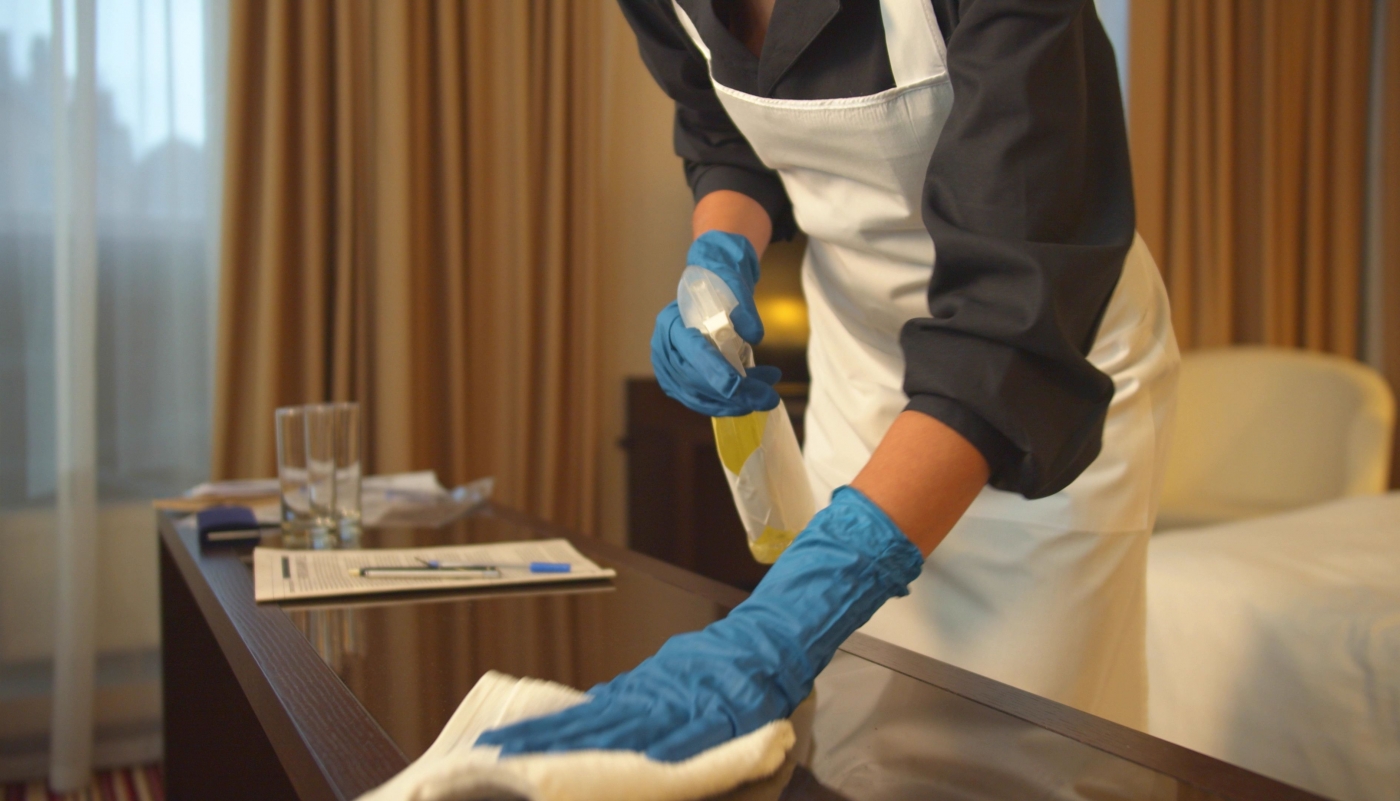 Visitors should plan to take similar precautions, not only to safeguard themselves or their families, but also to protect locals and fellow visitors – this can mean anything from wearing masks in public places like grocery stores, to bringing hand sanitizer and disinfectant wipes from home to use while visiting. Please see our COVID-19 Update for information related to reservations and travel or Florida Rental Restrictions and Advisories for the most updated government rental restrictions.
We have also put enhanced measures in place for each area of operation on the resort property:
Front Desk
Sandestin Front Desk and Guest Services agents will wear masks and gloves and be protected by plexiglass shields.
Signs and markers will be placed to signify 6 feet intervals for arrivals and departures.
Sanitizer pumps, disinfectant spray and wipes will be visible and stocked in our public spaces. Public areas will be cleaned with extreme frequency by members of our custodial team.
Arrivals
Arriving guests will be directed to remain in their car until it is their turn to check in.
Guest Services will direct the guest in order of arrival.
No more than 6 guests will be allowed in line at our Welcome Center.
Front Desk agents will ask for identification through the glass to limit contact.
Individual Homes/ Units
Our housekeepers will wear proper PPE for their own safety and continue their strict sanitizing and cleaning process in our rental units between guests:
Ventilate rooms before cleaning- The CDC recommends opening outside doors/ windows to increase air circulation before beginning to clean and disinfect
Clean all high touch points like the television remote, thermostat, light switches, doorknob or handles with a disposable EPA approved (hospital grade) disinfection wipe
Spray bathroom (sink, toilet, counter, tub and shower walls) with sanitizing/disinfecting chemical and clean the bathroom. Clean all other hard surface areas such as tables, kitchen, etc
Remove gloves and dispose of appropriately. Practice appropriate hand hygiene by washing hands for 20 seconds or use an alcohol-based hand sanitizer
Wash all linens at the highest heat setting recommended by the manufacturer
For best practices in health and travel as recommended by the CDC, please visit: https://www.cdc.gov/coronavirus/2019-ncov/travelers/faqs.html
Pools
Maintaining proper disinfectant levels in the pool at all times.
On-site housekeeping working to reinforce recommended hygiene measures by wiping down chairs after every use and disinfecting all high touch surfaces regularly.
Increasing the frequency of restroom sanitation.
Temporarily suspending towel service
Enforcing social distancing for separate parties across all areas, and setting chair
The Beach Club pool has these additional measures in place:
Limiting the number of occupants on the pool deck. Staff will be present and may need to turn people away based on the current number of guests already enjoying the facility. We will be counting the number of people on the pool deck, and letting people in only as space allows. There may be a waiting period when you arrive. For example, if 2 people leave, 2 people may enter once we are at maximum capacity. Members can call 850.267.4001 to check on occupancy levels, understanding they could change quickly.
Fitness Center
50% Occupancy as per the Florida Governor Ron DeSantis orders
All wet areas are temporarily closed- Steam room, hot tub, showers
Check in will be touchless
We ask that all guests clean machines before and after use with provided sanitary wipes
Beach Chairs/ Bikes
Beach chairs will be spaced for social distancing
Chairs and umbrellas are sanitized every morning and between use
Rotating bikes and chairs throughout the week, so the same one is not used two days in a row.
Golf
Requiring mandatory solo riding for every golf cart for riders who did not arrive together
Cups have been turned upside down so golfers can easily retrieve their golf ball without touching the flag stick
Removed rakes and ball washers
Common areas and restrooms are cleaned and disinfected multiple times a day  
Tennis
Requiring mandatory space in-between each court
Requiring masks inside pro shop 
Pausing ball and racquet rentals
*We recommend all guests bring their own water and towels. 
Marina Bar and Grill
50% Occupancy
Sanitizing high touch points throughout the day
6 ft. social distancing encouraged
Servers to use gloves when interacting with guests and handling cash. Follow appropriate CDC and WHO guidelines for removing gloves and sanitizing hands in Beyer
Sandestin Family Retail Stores - Barefoot Princess, Island Clothiers, Coconut Kidz, and Sandestin Clothing Company:
50% occupancy
6 ft. social distancing encouraged
Gloves needed for cash handling, follow appropriate CDC and WHO guidelines for removing gloves and sanitizing hands in Beyer
Masks required if working in closer than 6' from guests
Sandestin's 1,300 rental units from the beach to the bay provide private entrances, multiple bedrooms, personal kitchens and living spaces that will enable our guests to limit exposure to others while still enjoying their time at the resort.
We remain diligent in our efforts to protect the health and safety of our guests and our team members.  Thank you for your patience and understanding as we all make our way into the new normal. 
Other Articles You May Enjoy
Sick of the cold and snow? Ready for some sand and sunshine?
Vacation
Sandestin Foundation for Kids is doing some great and exciting things this year!
Community
Now you can fly direct to Destin and South Walton from 19 US Cities.
Vacation