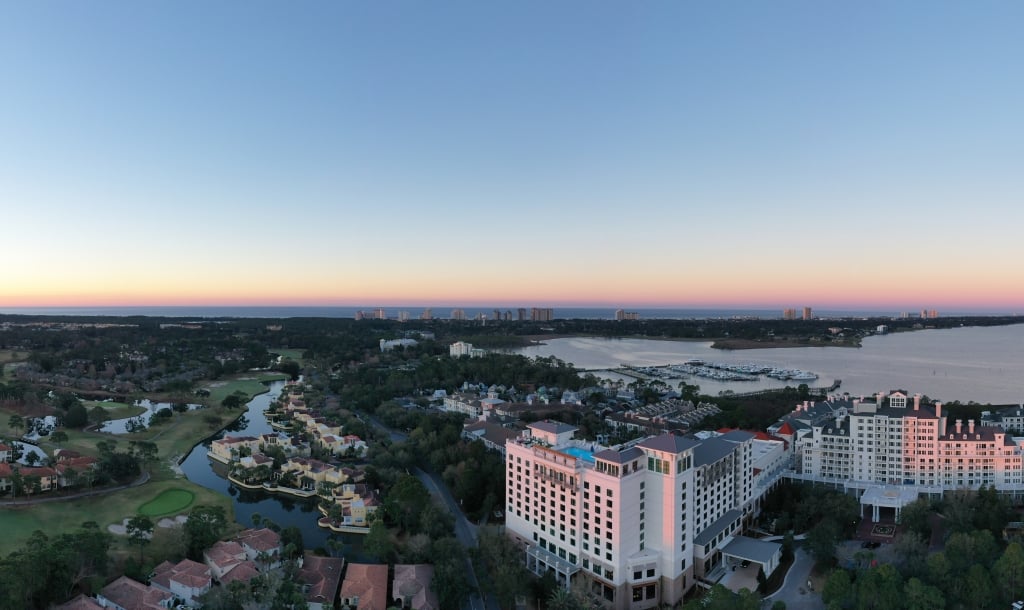 Thank you for choosing Sandestin® Golf and Beach Resort. We look forward to welcoming you to our 2,400 acres of beach to bay accommodations, where you will find world-class shopping, events, dining and more!  
Please take a few moments to review the Terms and Conditions.
We cannot wait to welcome you to Sandestin®! Download our app and start planning your trip!
AGE TO BOOK
All properties at Sandestin require you to be twenty-five (25) years of age to book a reservation.
AMENITIES
As a Sandestin® Golf and Beach Resort guest, you will receive complimentary unlimited health club access for adults and a 4-hour bicycle rental daily for two. Also included are 1-hour of kayaking (seasonal), 1-hour of boogie board (seasonal), and 1-hour of tennis courts each day per unit (after the hours of 11 am). Also, registered guests are entitled to resort transportation to/from designated stops. Please download our app for the resort tram schedule and live map.  
ASSISTANCE
Please visit our website or contact one of our guest service representatives to help you with any pre-planning activities or services you may require during your stay. Should you have any questions before arrival, please feel free to contact one of our Reservation Specialists at 877-809-1179, and we would be pleased to assist you.
CHECK-IN/CHECK-OUT LOCATION
All registered guests should check-in at the Sandestin Welcome Center located at 9300 Emerald Coast, Pkwy W, Miramar Beach, FL 32550 or The Grand Sandestin located at 9500 Grand Sandestin Blvd, Miramar Beach, FL 32550.
CHECK-IN/CHECK-OUT
Check-in begins at 4 pm. Check-out by 10 am.
A credit card will be held for incidentals at the time of check-in.
DAMAGES
We respectfully request that you remember that you are staying in someone's home during your visit. Please treat it with care. Guests agree to be personally responsible for any damages that occur in the unit. Rental protection insurance is available for an additional fee. Please visit http://sandestinresort.rentalguardian.com for more information.
DEPOSIT
A pre-payment deposit has been applied to your accommodation. Should you need to cancel or change your reservation, please do so at least 7 days before arrival. A full refund of the deposit will be given
for cancellations given 7 days before arrival. Any remaining balance will be charged within 7 days before arrival. If canceling within 7 days of arrival, there will be forfeiture of the entire reservation amount. Non-arrival on the scheduled day of arrival will result in a no-show. We will begin canceling all no-show reservations at 7amCST the day after the scheduled day of arrival. All no-show reservations result in a forfeiture of the entire reservation amount.
GOLF
If you have booked a Golf Package or added golf to your reservation, your tee times must be booked by a reservation agent before your arrival. If you have already confirmed your tee times, they will be sent
to you in a separate email. If you have not yet confirmed your tee times, please call Reservations at 877-369-6246 before arrival to ensure you get your desired times. Your tee times are not made until you speak with our reservations office to confirm them. Do not contact the pro shop to make your tee times if you are on a package, which could lead to you being double charged. The golf cancellation policy is 48-hours before arrival. If you cancel within 48 hours of arrival, you will be charged for the golf in your package. Unused portions of golf packages are non-refundable. The golf course will issue rainchecks, at course discretion, if the course is closed due to inclement weather.
GOLF CARTS
Golf carts not registered with the Sandestin® Owner Association are prohibited on the resort premises. A limited number of  homeowners allow golfcart usage with their rentals. Please ask your Reservation Sales Specialist for more information.
HOUSEKEEPING
Housekeeping available for a fee. 
PARKING
Vacation rentals are provided one parking pass. An additional parking pass may be requested but is subject to availability upon arrival.  Vacation rentals at Villa Lago have specific parking requirements: Only golf carts and two standard-sized automobiles, SUVs, and trucks are permitted. When parked, automobile, SUV, and truck front or rear bumpers must be pointing toward the street. Golf carts may be parked either parallel or perpendicular to the street. Parked vehicles may not extend into the grass or landscaping.
Recreational Vehicles and Trailers 
Per the Sandestin Owner Association motorcycles, boat trailers, trailers of any kind, scooters, RV's, campers, or buses are prohibited on the resort premises. Parking for these items is available in designated areas on a first come basis for a fee. Parking spaces are limited and it is recommended to check availability prior to arrival. For assistance please contact 850.428.1692.
PETS
Pets are only permitted in select pet friendly units. If you are interested in bringing your pet. A non-refundable taxable pet fee of $250 will be applied to any pet-friendly accommodations. Renters are liable for any damages to the premises, furniture, equipment, and household items.
REQUESTS
All reservation requests were noted at the time of booking. Unfortunately, there will be times that we will not honor specific accommodation requests. Accommodations can change due to owner participation in the Extended Stay Program.
SMOKING
All units are non-smoking. A $500 penalty will be assessed on departure for anyone smoking in the unit. Designated smoking areas are available.
TRAVEL AND DAMAGE PROTECTION
Unforeseen events can complicate even the most carefully planned trip. Whether it's lost luggage, canceled flights, or a medical emergency, an unexpected mishap can turn a relaxing trip into a taxing experience. Our travel and rental protection services are designed to help protect you. Please visit http://sandestinresort.rentalguardian.com for more information.
INCIDENTAL HOLDS
Please note that we collect a physical card at check in for any remaining fees, damages & incidental authorizations. 
We will place a $100 per day hold (up to $500) at time of check in for remaining fees, damages & incidentals, once you check out, any amounts not used will be released from hold. 
*Please note Debit cards take a 7-10 business days to release back to the card from your check-out date. Credit cards will generally be released same day but could take additional time for your card issuer to release back to you.