10 things to do on a Staycation at Sandestin
One could say the locals of the Emerald Coast are a little bit spoiled. Wonderful weather, plenty of activities and white sandy beaches with clear emerald water - why would you travel far and wide when you live close to one of the best places in the country?!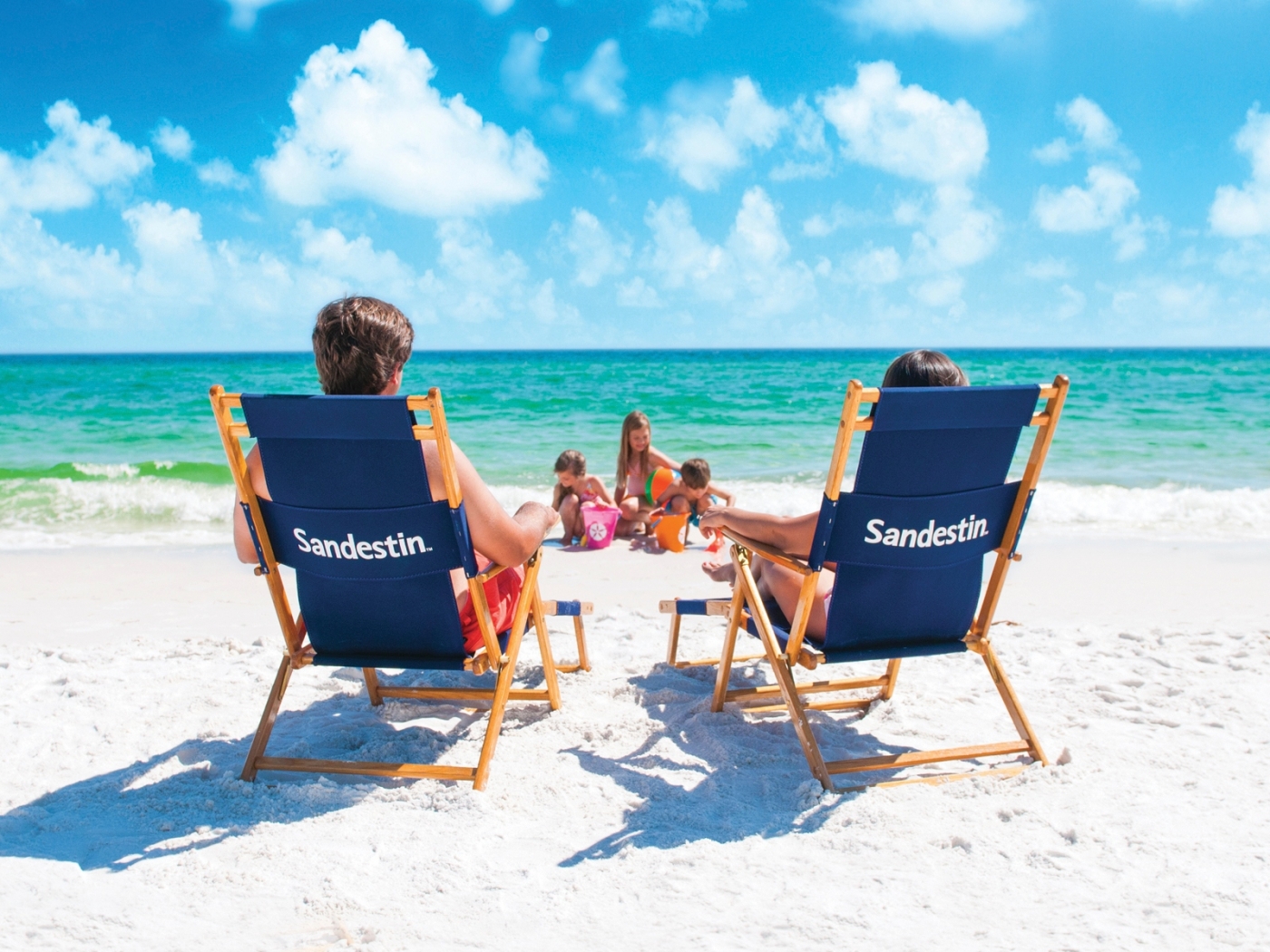 We know, you want to go on a vacation! So that's why locals should experience a luxurious Staycation at Sandestin Golf and Beach Resort where once you're inside the gates of the resort, you don't even need your keys anymore!
You might be thinking, "No need to grab my keys? No way!" But it's really possible. Between the shopping, restaurants, live music, and kids activities plus the beach, golf courses, Sandestin Spa and Fitness Center all accessible via the tram, those keys can stay where they belong, in your pocket! Why should you go on a Staycation on the Emerald Coast instead of a vacation somewhere else? We have GREAT 10 reasons...
10 things to do on a Staycation at Sandestin
Beach
Our beautiful beaches speak for themselves! Pack your beach bag with sunscreen, towels and toys and head to the beachside of property where you can enjoy laying out, building sandcastles and jumping in the gulf! Reserve one of our beach setup rentals that include two beach chairs and an umbrella which is set up by our beach attendants and waiting for you to arrive! 
Golf
Grab your clubs (or rent some of ours) and get out on the green! Our four pristine courses: Raven Golf Club, Baytowne Golf Club, The Links Golf Club and our exclusive and private Burnt Pine Club, each have their own special challenges, rewards and unique characteristics. Book your tee times by calling 850-267-8155 (Baytowne & Raven), 850-267-6500 (Burnt Pine) or 850-267-8144 (Links)!
Dining
Sandestin is filled with wonderful restaurants where you can have breakfast, lunch, dinner or dessert. Some of our favorites include: Caffe Siena, Fat Tuesday Daiquiri Bar, Acme Oyster House, Another Broken Egg, Hammerhead's Bar and Grille and Marina Bar & Grill. For a full list of all restaurants available at Sandestin Golf and Beach Resort or to reach out to one of the restaurants listed, please click here.
Spa
Treat yourself to a day full of relaxation! Spa Sandestin offers treatments from your head all the way down to your toes - we offer a wide varitety of treatments including deep tissue massages, facials, body wraps , manis and pedis, haircuts and even makeup applications! To book an appointment at Spa Sandestin, call 850-267-6466 and to see a full menu of treatments click here. 
Shop
In need of a little shopping day? Look no further than the Village of Baytowne Wharf! You will have dozens of boutiques and stores to choose from including the Sandestin Family Retail Shops where you can find Sandestin logo resort wear at Sandestin Clothing Company, and top designer brands for everyone in the family at Barefoot Princess, Island Clothiers and Coconut Kidz.  For a list of all boutiques and stores, click here.
Tennis
Practice your swing on our Sandestin tennis courts! When you book directly through Sandestin, each guest gets the chance to experience our 12 world-class HydroGrid clay and three hard tennis courts on a complimentary basis (*one-hour per guest). We also offer private lessons, hitting sessions, adult tennis group clinics and junior programs! Get yourself on the court today by calling 850-267-7060!
Fitness Classes
Working out on vacation? More power to you! When you book direct through Sandestin, you get access to our Sandestin Fitness Center located on the bayside of property by Spa Sandestin. We offer special classes for groups and individuals, all supported by certified fitness professionals. Our fun groups exercises include: Yoga, Pilates, Spinning, Step, Indoor Cycling and Zumba. Click here to see a full monthly fitness schedule.
Baytowne Events
The Village of Baytowne Wharf has numerous events and activities each week both during the day and at night! Depending on the time of year you visit, the Village has festivals, kids activities, live music, holiday weekend activities and movies on the Events Plaza Lawn, just to name a few. To see what's going on when you visit, click here.
Bike Rentals 
There's no better way to see the beauty of the resort than by taking a tour on one of our resort bicycles! We provide you with a lock and map so you can explore our Florida beach resort at your leisure. Resort Guests receive two complimentary 4 hour bicycle rentals each day of their stay per unit. Additional bikes are available for rent at the prices listed here. For more information, call 850-267-6363.
Water Activities 
We offer many fun water activities here at Sandestin! The Baytowne Marina will be the go-to location for water activities from watersports to fishing--we have a little bit of fun for everyone. Choose from WaveRunners, paddleboards, water bikes, kayaks, boogie boards or pontoon boats. Information on all of our fun activities can be found here.
Ready for your Staycation at Sandestin this summer? Book now for travel dates between 4/24/19 and 5/21/2019 and receive 25% off accommodations! 
Other Articles You May Enjoy
Sick of the cold and snow? Ready for some sand and sunshine?
Vacation
Now you can fly direct to Destin and South Walton from 19 US Cities.
Vacation
Not sure where to take your photos? Check below for our 5 favorite places on property!
Vacation