Making a Difference, One Child at a Time
Sandestin Foundation for Kids is doing some great and exciting things this year! Internally, we are revamping our marketing look and finding new ways to keep our readers in the know, and we are putting the Planning Committees ideas into action. Externally, we've partnered with new charities and are continually meeting and helping new children and their families. We hope you are just as excited as we are to read the stories about how our donations have made a difference in the lives of so many.
Latest News on Our Little Ones
Rachel Schicker
Rachel Schicker has been a part of the Sandestin Foundation for Kids family since 2015. Many of our faithful followers may remember hearing about her in newsletters. Rachel and her twin brother, EJ, were born via an emergency C-section due to a placenta abruption, which caused Rachel and EJ to lose oxygen while drowning in blood. The doctors had a 30-minute window to save the babies and their mom, who was also losing a lot of blood. Due to the work of the doctors at Loyola University Medical Center in Maywood, IL, the babies and their mom survived, but Rachel was found to have a brain bleed which has caused her lasting problems, one of those being impaired motor skills. Rachel underwent Selective Dorsal Rhizotomy surgery to help improve her walking. The Foundation first helped the Schicker family by covering one year of therapy and purchasing her leg braces, both of which insurance would not cover.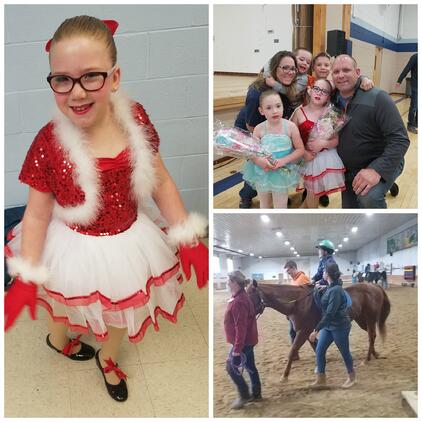 In learning to walk, Rachel began having issues with her hip sockets. If her alignments don't improve, Rachel will have to have very invasive surgery to repair them. Rachel's family learned that horseback riding can be very beneficial to Rachel's condition, so in 2017 she started riding horses in a therapy center. Hippotherapy sessions are expensive and insurance doesn't cover the full amount, so the Foundation helped cover her first year. Rachel's scans showed improvement which means the hippotherapy is working. In order to keep Rachel's recovery on the right track, and to hopefully prevent hip surgery, the Sandestin Foundation for Kids recently paid for her second year of hippotherapy. We are so happy that Rachel's condition is improving and love getting to be a part of her journey.
Liam Hurley
Liam Hurley is one of our local residents currently residing in Fort Walton Beach, Florida. He has a birthday coming up and will be turning 5 years old! We made our first donation to the Hurley family in 2015 to help with some of their medical bills. We've been following Liam's story from the beginning, and wanted to provide an update on Liam's story and how the Foundation has been able to help.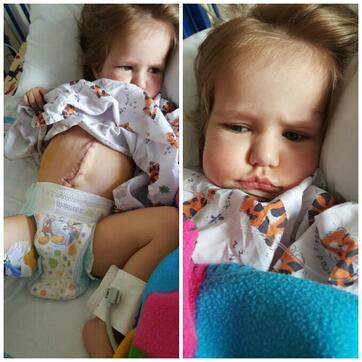 At birth, Liam was first diagnosed with Polycystic Kidney Disease, but doctors later determined that Liam had Multicystic Dysplastic Kidneys. In 2015, Liam only had 20% kidney function and had to have a kidney transplant to survive. He received his new kidney on May 10, 2016 which was donated from his father, William. Liam's surgery went well, but he faces a life of daily immunosuppressant drugs to prevent organ rejection.
These fees are on top of the already expensive medical bills they had prior to the transplant and post-surgery. To help ease some of the stress the family is experiencing, the Sandestin Foundation for Kids made another donation to the Hurley family. Our goal in assisting financially is to help Liam and his parents have a minor break in having to worry about bills and instead allowing them to enjoy their time together and be thankful in how far Liam has come.
Though the medical bills are taxing, the most important thing to his family is that Liam is healthy, happy, and caught up to where he needs to be developmentally. He was scheduled to have his 2-year biopsy in early June and plans to start kindergarten in the fall. He can count to 10 in four languages and knows over 40 different dinosaur names! His family and the Foundation are so proud of what he has overcome and accomplished. We love getting to see this little boy thrive and make the world a happier place! You can follow Liam's story by clicking here.
Henley Becnel
Henley Becnel was born at Jefferson Hospital on June 3, 2018, but was moved to the NICU at the Children's Hospital in New Orleans. Henley's mom, Jessica, had gestational diabetes and Henley was born 10lbs 8oz. She has an enlarged heart and both her heart and lungs are not working properly together. She is currently on a ventilator while they work on getting her lungs to function on their own. They do not yet have a prognosis, nor do they know how long she will be hospitalized since a release date isn't even in discussion yet.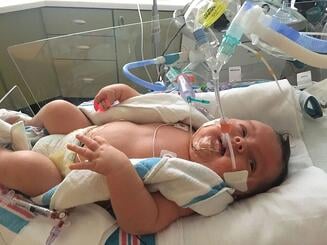 Unfortunately, the family is uninsured, and though they have applied for Medicaid, they have no idea what it will cover or if it will cover anything retroactively. To help with their growing medical bills, Sandestin Foundation for Kids recently made a donation to the Becnel family. We are following Henley's journey and hope for a full and speedy recovery for this little one.
Maleia Spears
Maleia Spears is another one of our local children from Crestview, Florida. Earlier this year, Maleia's mother, Kristy, noticed that Maleia's smile was sometimes lopsided and that she wasn't using her right hand which is her dominant side. As time progressed and her condition worsened, Maleia was brought to the ER where she was diagnosed with a brain tumor. In March, Maleia had a craniotomy to remove the brain tumor, but the surgeon was only able to remove about 50% due to how deep the tumor went.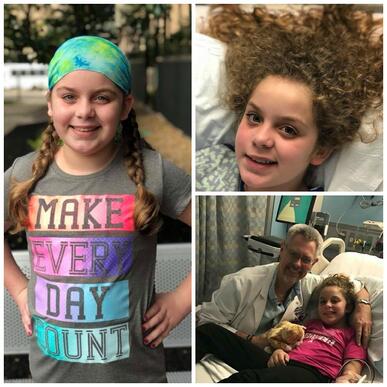 Since surgery, Maleia has started physical therapy, occupational therapy, and speech therapy. She enjoys coloring and usually colors at least one page a day. She was accepted to the Dana-Farber Cancer Center at the Boston Children's Hospital. While dealing with the side effects of her brain tumor, Maleia also had issues due to hydrocephalus which caused her to have double vision among other things. She underwent a second surgery in April to try and resect the rest of the tumor and fix the drainage that was in her brain, which would help relieve the hydrocephalus. While the surgery went well, the doctor was not able to remove all the tumor due to it being located in and near the control center of the brain. One wrong move could have had devastating effects on Maleia, such as paralysis or causing her to go into a coma. During her hospital stay, Maleia's participated in physical and occupational therapy and underwent shunt surgery to help drain fluid in her brain.
Maleia began photon radiation in May which has caused her hair to start falling out, so to help cop she got a haircut! She received her favorable results from the molecular analysis which concluded that she does not have Glioblastoma, which was great news. She was diagnosed with stage 3 Anaplastic Astrocytoma, which is an aggressive tumor, but responds well to radiation and surgery. Maleia has a long journey ahead of her, but she is a strong-willed little girl and we have the upmost faith in her recovery. As you can imagine, between the surgeries, therapies, and other medical related costs, the Spears family's medical bills have built up. In an attempt to alleviate some of their financial worries, the Sandestin Foundation for Kids made a donation to the family. You can follow Maleia's story by clicking here.
Jesse Whitmire
Jesse Whitmire was driving his truck alone when he lost control and crashed. The accident left him paralyzed from the chest down and lucky to be alive. Jesse suffered from a shattered C3 vertebrae, broken C4, C5, and C6 vertebrae, and a cut in his spinal cord.
He spent several weeks hospitalized in Fort Walton Beach, Florida before moving to the Shepard Center in Atlanta, Georgia. The Shepard Center specializes in medical treatment, research, and rehabilitation for people with spinal cord injury, brain injury, and other neuromuscular conditions.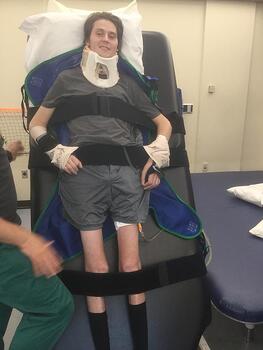 Jesse is making improvements each day, he can currently move one of his arms, but he has a long road ahead of him. Sandestin Foundation for Kids hoped to make the financial journey a little easier by making a donation to Jesse and his family. You can find updates on Jesse's recovery by clicking here.
Donations to Charities
Read Across Africa
Sandestin Foundation for Kids began its partnership with Read Across Africa in May and made our first monthly contribution this month! There are many reasons why we are excited to partner with this great organization, one being that they run their program similar to Sandestin Foundation for Kids–100% of all donations received goes toward helping children and their community. Every dollar that is donated goes towards a book project, whether is for a reader, a reading program, or an entrepreneurial endeavor. The organization runs solely on volunteers and all operating costs are funded by private donors.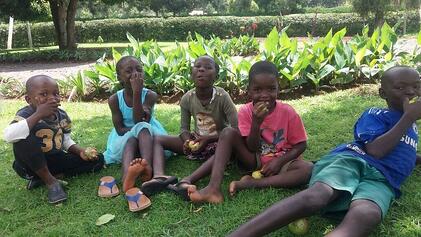 Read Across Africa rehabilitates unused homes in rural Kenya, converts them into libraries, then educates communities on self-sufficiency and entrepreneurship. They have collected 17,500 books so far and share these with the Kenya community free of charge. The library is the first in the community and sees up to 120 children each day. The six staff members act as librarians and teachers by helping children with their homework and teaching them the purpose and function of a library. They also host weekly art sessions for the children and fund entrepreneurial endeavors for the adults. They are dedicated to creating a sustainable community and sharing as much knowledge as possible with the community. Their love for their work shines daily through their actions and sacrifices and we are humbled to have the opportunity to contribute to such a wonderful cause.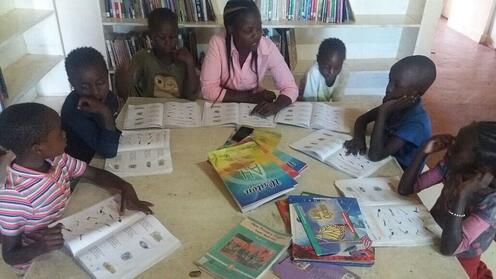 To read the full story on Sandestin Foundation for Kids, please click here. To learn more about Read Across Africa, please click here to visit their web page.
Catholic Charities–Food Pantry
Sandestin Foundation for Kids has recently partnered with the local chapter of Catholic Charities to do some amazing work in our local area, providing food, clothes and baby supplies to families in need. Check out their website for ways you can help and get involved in our local community by clicking here.
Georgia Society of Association Executives
Pay the Pig Raffle
GSAE held their annual meeting at Sandestin Golf Beach and Resort and hosted a Pay the Pig Raffle. This is the fourth year GSAE has held a Pay the Pig Raffle to benefit a local communit charity and Sandestin Foundation for Kids was the chosen charity this year. Attendees at the GSAE's Annual Meeting raised over $4,100 to support the Sandestin Foundation for Kids! Thank you so much, GSAE.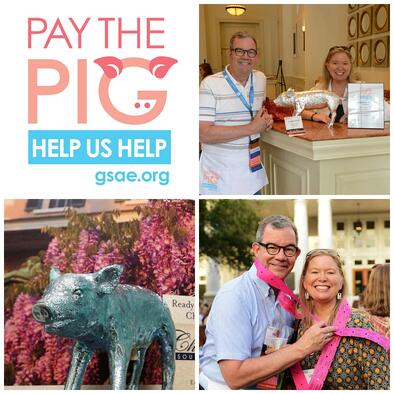 About GSAE: The mission of GSAE is to advance the profession of association management and to enhance the professionalism of association executives. GSAE represents over 550 association executives and suppliers of association products and services, including representation from 250 national, regional, state and local associations base in Georgia. More information is available online at www.gsae.org.
Upcoming Volunteer Opportunities
If you would like to join our volunteer database and be notified when volunteers are needed, please reach out to Brooke Windham at [email protected].
Beer Fest
We are looking for volunteers for the 11th Annual Beer Fest at the Village of Baytowne Wharf! The festival will be held October 12-13, 2018. If you're interested, please contact Brooke Windham at [email protected] for more information.
SDFK Gameday 5k
We've set a date for our annual 5k race! Mark your calendars for Saturday, November 17, 2018. If you would rather volunteer than race, please reach out to Brooke Windham at [email protected] for more information.
A BIG Thank You to Our Volunteers!
Cinco de Mayo Booth
This year, Sandestin Foundation for Kids set up shop on the Grand Boulevard lawn and participated in Cinco de Mayo! We had the opportunity to spread awareness and we're able to have some fun! We had 4 lucky winners of awesome baskets that included items generously donated by Cantina Laredo, Baytowne/Raven Golf Course, Sandestin Spa, and Island Clothiers/Sandestin Clothing Company. This was the first idea implemented by our new Planning Committee. We are looking forward to many more ideas such as these being put into action!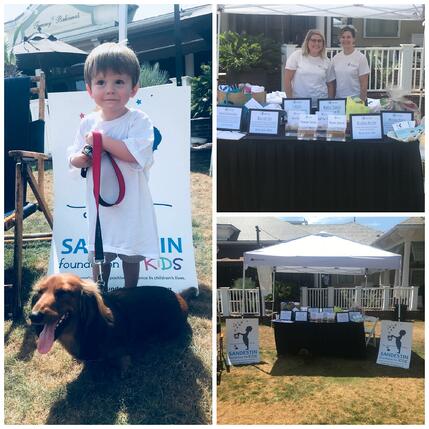 Wine Fest
This was the Foundation's fifth year partnering with the Village of Baytowne Wharf for the Sandestin Wine Festival. We were able to provide close to 100 volunteers for the Friday and Saturday events.
Our volunteers had a blast while assisting with pouring wine at vendor booths, helping with Yoga on the Beach, assisting in the VIP area, serving food at the food tent, and much more!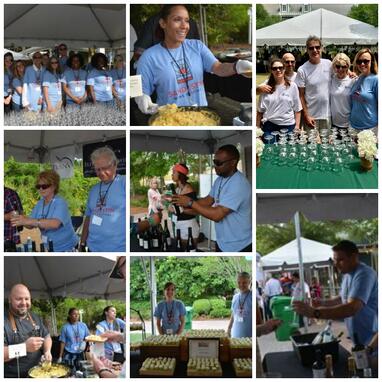 In exchange for offering our helping hands, the Village of Baytowne Wharf donates a portion of the proceeds to their charity partners. This year they donated a very generous $32,970 to the Sandestin Foundation for Kids! We are over the moon and can't wait to put these dollars towards helping the many children and families who need it most! Below is a snapshot of the check presentation from June 18th.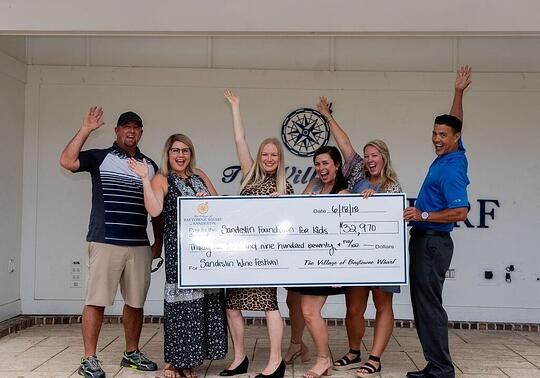 If you would like to help the Sandestin Foundation for Kids make a difference in more children's lives, please click here.
Other Articles You Might Like
We have been working behind the scenes to modify our health and safety processes across the resort.
Vacation, Community
We are so fortunate to call the Destin area and Miramar Beach our home, we almost forget what makes it so beautiful, Mother Nature.
Vacation, Community
Earth Day is a day to celebrate and honor our mother earth but in reality, it's something we should celebrate, every day!
Community