Stay and Never Have to Leave Sandestin
If you vacationed at Sandestin Golf and Beach Resort since July of last year, you most likely noticed the construction on U.S. Highway 98. The updates from this construction will make getting to Sandestin so much easier (and faster). We're pleased to be able to say that the wait times in traffic this past peak season were shorter than the previous year!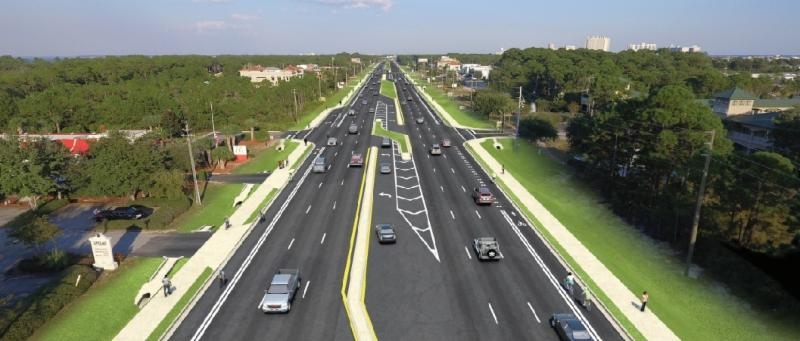 As we approach the finish line of the widening of Highway 98, we expect wait time in traffic to continue improving so stay patient and remember that your dream vacation awaits. Once you enter the gates of Sandestin, there's no need to even get in your car. Just park, get active, enjoy the entertainment, make a splash on our beaches, shop, dine and relax!
The changes to U.S. Highway 98
Construction that began in 2017 is more than halfway finished in Walton County (near Sandestin) and on schedule to be completed in Summer of 2020! The Okaloosa County updates are concluding in early 2021.
The project that will enhance the traffic flow and provide a safer route for pedestrians and cyclists includes:
Widening U.S. 98 from four to six travel lanes
Constructing new stormwater detention ponds
Adding new sidewalks and bicycle lanes
Drainage system improvements
Upgrading existing traffic signals
26-foot grass and concrete median with left turn lanes
Below is what you can expect the new U.S Highway 98 to look like! For project news and updates, you can follow @myUS98wfl on Facebook or on Instagram @myUS98. 
Everything you need is here
Once you arrive on property there is no need to get back on U.S. 98, or even use your car at all! Our FREE tram system will take you virtually anywhere on the resort like the beach, The Village of Baytowne Wharf, tennis courts, golf courses and the Sandestin Spa and Fitness Center. You can view  the tram route and location in real time on our app or on our website. If you want to take advantage of the kitchen in your accommodation, we suggest making a short (less than .5 miles) trip to Publix in Grand Boulevard- you don't even have to go onto U.S. 98!
Amenities at Sandestin
When you book through Sandestin, you earn access to our wide array of complimentary amenities that are yours to enjoy while staying as a guest at our resort. We want you to enjoy Sandestin just as much as we do, and part of that is experiencing the fun activities the resort has to offer!
Fabulous perks and extras include:
Two (2) complimentary 4-hour bicycle rentals each day of your stay
One hour free kayak rentals and one hour of boogie boards
One hour per unit of free Sandestin tennis court time
Free access to the Sandestin Fitness Center
Free resort tram service
Preferred beach parking
Save money on beach chair and umbrella rentals
Save money on golf rates, parasail rides, wave runner rentals and more
Other ways to get to Sandestin
There are alternate routes to arrive on property while avoiding the heaviest construction. First, stay on I-10 East until you reach FL-293, go through Niceville and take the Midbay Bridge to Destin. The second way is to avoid the construction altogether by overshooting Sandestin on I-10, and taking Exit 82 and arriving to US-331. Use Sandestin's Guide to U.S. 98 Construction Work for your traveling needs by clicking here.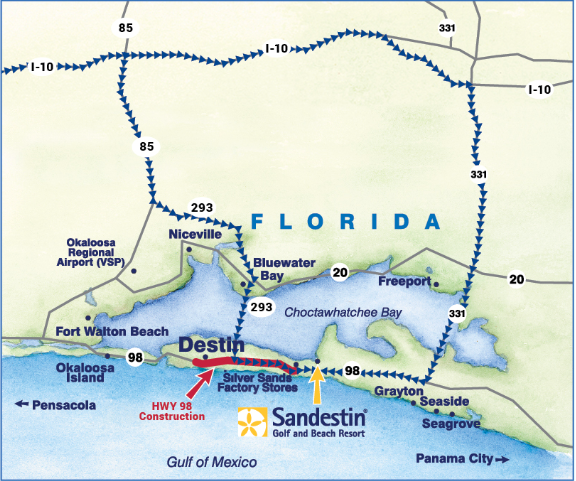 Lower temperatures, shorter lines and smaller crowds make fall one of the best times of year to visit the beach. You can unwind and relax while enjoying emerald green waters, sugar white sand and amenities unlike any other—so what are you waiting for? Save up to 40% on your fall getaway! Book online or call 844.996.0551 and use code SUNSET.
Other Articles You Might Like
Sandestin Foundation for Kids is doing some great and exciting things this year!
Community
We have been working behind the scenes to modify our health and safety processes across the resort.
Vacation, Community
We are so fortunate to call the Destin area and Miramar Beach our home, we almost forget what makes it so beautiful, Mother Nature.
Vacation, Community